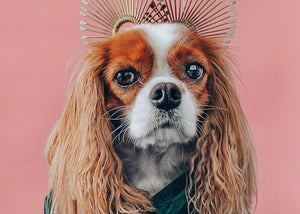 This blog post contains affiliate links.  This means I may earn a small commission at no additional cost to you should you choose to make a purchase using my link.  I love all of these companies and you will too!
Take one look at the cover photo and there's no doubt: @cavalier.queen.daisy is The Queen. If DOGUE was a thing, Daisy would be the Naomi Campbell gracing its pages. If the Poochella Verse blasted into existence tomorrow, Daisy would be belting the lyrics to Bow Down in her fiercest Yoncé-level main stage performance. Complete with an all-star band and 100 of the baddest backup dancers in the land.  Yup. She's that b...you get the idea. 
If the Kardashian's decades long success has taught us one thing it's; if a star is born there's a momager-in-charge making it happen.  So we caught up with the HDIC [Head Dog-momager In Charge] behind the account, Monikah.  We got the skinny on Daisy, Monikah's creative process, her fave tools and the secret to all those glam photo shoots.  


Okay, so your Instagram feed is #GOALS!  Absolutely stunning. I literally gaffawed when I first saw what I like to refer to as 'The Beyoncé of Dogs' photo of Queen Daisy.   But your feed is literally photo after photo of ELLE-worthy content.  How do you come up with such gorgeous photo shoot concepts?
Because Daisy is such a patient photography subject, I've been fortunate enough to explore different ideas and incorporate décor in a more unique way. I've always loved creative photos of pets even before we adopted Daisy and I've wanted to mimic that in her page.  As I've always wanted to be an interior decorator, I usually look to décor pieces to provide inspiration. 
To capture these amazing images of Daisy, do you have a background in photography?  What is your fave equipment for shooting?
I've always been fascinated with professional photography, but I don't have any background in it. The camera I have is very basic and I currently use the lens that it originally came with (Canon Rebel t6S).
The images I post on Daisy's Instagram are mostly a result of experimenting with different angles that are both fun and complimentary to her features.  Although I don't typically use much equipment, I will use a tripod when her and I do matching photos together.  Canon has an app that you can use for Bluetooth which allows me to shoot remotely using my phone — it's so helpful!
Any tips on how other dog moms can get their pooches to sit still during photo shoots?  What works for Daisy?
I get messages all the time about how Daisy is so docile and patient when I post my 'behind the scenes' and questions about incentive types.  Initially when she was a small pup I would switch between her kibble and treats because I would have to use it all the time.  But now I only really use treats if it involves her looking in a certain direction, if her positioning involves more effort than just sitting or laying down, or if it involves a prop.
The most important thing is to make your shoot is a safe and positive experience for your pet.  If they sense that you are getting frustrated, it can make them shy away from the camera and that's definitely not what you want.  Training them to Sit, Lay,  Wait and Leave It/Hold It off camera will help to transition them easier for when you are behind a camera as opposed to holding their eye contact.  
Another important tip is to play to their strengths.  Daisy is a phenomenal indoor photography subject, but once we venture outside it's almost impossible to have her still sit.  Too many different noises and smells.  That's why a large majority of her posts are indoors instead of outside.
Tell us more about you and Daisy.  Where are you guys from? How would you describe her personality?  Is she as posh in person as she looks on IG? (lol)
My husband and I are originally from Arizona, but moved to Raleigh immediately after we got married since he found a job that offered to move us.  I'm an oncology nurse.  I work nights 3-4 times a week; which is perfect for Daisy as my husband works from home during the day.  So there's always someone around for her.  
Daisy had her 3rd birthday this past June and I can't believe she will be turning 4 soon.  She is definitely a very relaxed pup and has always been for the most part.  I've never had a problem with her sleeping with me all day before work and then sleeping at night with my husband.  
As far as her personality is concerned, she is very much as posh as she looks on IG and reminds us everyday that she is a little queen.  Fortunately we've never had any issues with her barking, but she can be very demanding and snotty.  She'll let us know when she's not ok with a situation, although generally she's a big cuddle bug and down for whatever.
When raising Daisy did you encounter any unusual problems or training issues?  Any tips you'd like to share?
When I adopted Daisy I had to do a bit of traveling as the breeder was located in a different state.  During our little road trip, she ended up having several episodes of diarrhea which caused her to develop a sliding intussusception (condition in which a part of the intestine folds into the section immediately ahead of it) and had to have surgery.  
Before we discovered exactly what the problem was, she spent her first weeks with us in and out of pet urgent cares.  Her initial symptoms were regurgitation and inactivity, but she later developed into full out vomiting, lethargy and avoidance.  She also started to crawl out of our arms and search for dark corners under the couch to crawl into.
At this point we knew that if we didn't do something drastic, this would be her end.  I look back with frustration as we never demanded an x-ray and instead watched as they simply tried to treat her symptoms.  By the time they finally discovered the cause, we opted for emergency surgery.  Her blood sugar was 28 despite the Caro syrup we'd tried to administer on her gums to keep her sugar levels up.
As she was only 8 weeks old we had no idea if she would survive the surgery.  I remember whispering goodbye and kissing her on the nose before she went into pre op.  That day was the longest day I'd ever experienced.
After she made it out, the vet said when she opened her up, a large section of her intestines was grey and necrotic and would not have been able to last much longer.  Luckily she didn't have to add any staples and only needed to rearrange them in order for them to start to regain some color.  After surgery, she had a lidocaine drip for pain and a pup size nasogastric tube sutured to her little hairs atop her head.  She was such a little champ through it all.  
Unfortunately, ever since then Daisy has just had the most sensitive stomach.  So we're just very particular with what we feed her.  She can't have a large range of meat, but she absolutely loves salmon and chicken and all the veggies.
Tips for new dog owners would be to definitely set up insurance for them immediately, especially if they are a pure breed as they are known to have more health issues.
Besides your beautiful feed, I've become a huge fan of yours because of your awesome home décor.  I know a fellow Anthropologie lover when I see one!  Who are some of your favorite home décor brands?
Yes!!!  I love Anthropologie!  Definitely one of my favorites.  As I've been decorating my house I get my décor items from a medley of locations.  And I'm typically looking for the best bargains.
Some of the stores that I love shopping at are Target (obviously), HomeGoods, TJMaxx, Overstock and World Market.  Other brands that I absolutely love are CB2, Crate & Barrel, West Elm, Urban Outfitters, HMhome & Rifle Paper Co.
Any home design tips for our fellow L&C crew members?
Although I love the style of the brands I mentioned before, they can sometimes be a tad pricey depending on the object.  So I would say about 50% of the décor I have is second hand.
I love using Facebook Marketplace to find great deals and scrounging through thrift stores too.  Also, Pinterest is a great inspirational source and will always get me out of a creative slump.
A huge thank you to Monikah and Queen Daisy for gracing us with this outstanding interview!  Please be sure to follow them for more grace, Sasha Fierceness and dog mom glam on Instagram at @cavalier.queen.daisy.
You May Also Like These Posts On The Goss: