Dog Moms Ask The Girl Who Speaks Dog (These Are The Little Training Tips Dog Moms Want To Know)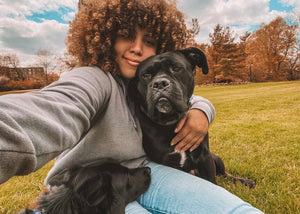 Being a dog mom is one of life's greatest joys, but training our newcomers can be quite a challenge.  So for this installment of The Goss we caught up with a dog mom who also specializes in dog training!
Meet Kayla Oliver a.k.a. @thegirlwhospeaksdog on Instagram.  We sat down with Kayla to talk about her own dog mom journey and asked her the questions about dog training you wanted to know!
We are so excited to chat it up with you and Dude this month, Kayla!  Please tell us a little bit about you and Dude!
I'm originally from Virginia and moved to Atlanta in 2015.  Pretty much my entire life I have been obsessed with dogs.  I can't even remember a time when I wasn't.  Being that my parents were in the military, they were too busy to allow me to have a dog of my own — which I think really intensified my obsession. (lol)
When I was a kid I passed out flyers in my neighborhood offering dog walking and washing services.  I started dog training back in high school and have worked at various pet stores, doggie daycares, training facilities and animal shelters ever since.
I adopted Dude from Fulton County Animal Services two years ago while working at the shelter as the foster coordinator.  Dude was so emaciated and fearful, I just couldn't resist taking him home with plans to temporarily foster him.  My older dog, Aiva, immediately took to him and I quickly realized he wasn't going anywhere.
He is seriously one of the best dogs ever, we just naturally took to each other and surprisingly I've never had to do any real formal training with him.
Like me, I know you have a soft spot for rescues.  Do you have any tips for our readers who may be interested in adopting?
I think adopting is amazing, but know that adopting a dog requires patience.  Most of the time there is little to no backstory, so understanding that the dog will need time to decompress and adjust is important.  
Don't rush any part of the process from selecting the right dog to pushing them to love you too quickly.  The whole thing takes time.  I typically use a rule of three for newly adopted dogs:
THREE days and the dog will start to relax and settle in.
THREE weeks and the dog will understand the new routine and start to become familiar with his new home and family.
THREE months and the dog will start being confident and "showing" it's true colors.
Be patient and be consistent.  Provide routine and stability, utilize a crate and go on lots of leash walks together!
So I absolutely love your IG page @thegirlwhospeaksdog!  Can you tell us how you got into dog training and how long you've been working in that field?
Thank you so much!  I've been obsessed with dogs literally my whole life.  I always thought that I was going to be a vet until I realized I had no interest in the medical side of animals — I was all about behavior and care.
So I got my first job in the animal field as a pet are specialist at PetSmart when I was 17.  A year later, a dog trainer position opened up and I took it and haven't looked back since.  I would say I have been in the training and behavior game almost 12 years.
What has been the most challenging situation you have helped a client overcome so far?
I think the most challenging behavior owners struggle with is leash reactivity.  It can be so embarrassing and can leave you feeling helpless.  But the real challenge that a lot of owners face is having confidence in themselves and the training process.  
Training your dog is never linear, and I think that needs to be said more often.  Trainers and really experienced owners post a lot of the good stuff online — the perfect shot of their dog doing well or the perfect moment; but don't talk enough about the challenges, the resentment, the disheartening moments and the self talks that are needed and being faced daily when working with a difficult dog.
I love helping people with their struggles and being an ear to vent to or a shoulder to lean on.  I feel it's my job to help owners learn how to truly embrace the journey, not the destination. 
I was totally celebrating with you when you posted about getting those 14 dogs to hold a sit stay.  What has been another highlight in your career that stands out to you?
I think a very recent highlight is taking the leap of faith and starting my own business.  I've always struggled with feeling like I have more to offer than my job titles ever permitted me to do.  Plus there is not enough representation of black women dog trainers and I'm excited to bring that to Atlanta.
Having the epiphany and saying, "Hey, I actually don't need anyone else to do this and be successful," and truly believing it was a huge highlight and has already begun to change my life.
So of course we couldn't do a Goss Session with a dog mom dog trainer without some reader questions!!  Can you give us some quick tips for these reader questions which were submitted for you?
What tips do you have for a dog who pulls nonstop when on leash walks?
Figuring out the proper tools tends to help a lot.  Don't be afraid to explore tools you've never used, but be sure to work with a trainer when trying something new.  
Retractable leashes teach bad habits of your dog walking 10-20 feet ahead of you.  Use a shorter 4-6 foot leash to gain more control.  Also, skip the harness!  Think huskies on a sled — the harness is made to make pulling easier!
How do you break a puppy of nipping?
Utilize the crate more often! Think of cranky toddlers, the first thing we say is "someone needs a nap!" (lol)  Usually your puppy does too!  Avoid playing with your hands and feet, instead have a toy in your hands while playing.  I also encourage setting up play dates with other dogs and puppies so they have an outlet for the nipping.
Any tips for teaching the "Drop It" command?
One of the easiest ways to teach drop it is the two-ball or two-toy method.  When your puppy has a tight grip on one toy, pull a second one from behind your back.  They will typically drop the first toy looking to grab the one in your hand.
Do this repeatedly until they are consistently dropping the first toy, then add the cue "drop it" as they drop it on their own.
Another way to teach would be to play tug, get the dog really into it, and then stop tugging and place your hands firmly on the part of the toy that is near their month and hold still.  This will usually make the dog slightly confused and they will let it go.  Same as the other method, name it once you love it!  Place the cue "drop it" in as they let it go on their own.
I desperately need help with teaching a small dog how to heel.
It can be challenging to explain via print, but be on the lookout for an instructional video soon!
When teaching "place" do you have to use a raised bed/cot?
Yes!  We love elevated dog beds over here.  I find they help with clarity being that the dog has to think about stepping up onto it and stepping back down off of it.  It's also like a mini hammock — perfect to assist with creating a calm, relaxed state of mind.  Plus, they are lightweight and super easy to clean!  I love anything dog related that's easy to clean. (lol)
How do you stop a dog from barking at other dogs?
Usually a dog that is barking and reacting to other dogs is lacking structure in other areas of life.  Start an obedience regimen and practice things daily to build the dog's confidence and trust in you.  Also aim for healthy socialization by walking with friends who have friendly and calm dogs at a safe distance.  
You want to figure out the dog's threshold which is at what point does the barking begin?  However close the dog can be to another dog without barking is the distance you want to start at.
This has been wonderful chatting with you.  Can you tell our readers where you practice and how they can get a hold of you if they are interested in enrolling in training sessions with you?
I currently offer board and train services in which dogs live in my home for 2-4 weeks at a time.  I am mobile and do in-home session where I come to your home to work with you and the dog.  I also offer bathing and pet sitting services.  
Being that I am just starting up, readers are welcome to DM me on IG, call or text me at (404)907.9907, or email me at TheGirlWhoSpeaksDog@gmail.com.  But be on the lookout VERY soon for convenient booking options!
A huge thank you to Kayla for chatting with us for this month on The Goss!  Get more of her awesome training tips or book her for training services by following her account @thegirlwhospeaksdog on Instagram!