How Are We Living, Phoenix? [Check Out The Post Pandemic Of Dog Moms From Across The World]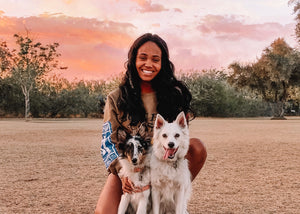 We've leaving our last stop in beautiful Montréal, Quebec, Canada and setting our sights on a much...warmer location next.  Welcome to Phoenix, Arizona L&C Crew!  Here, we are meeting our next amazing dog mom, Justice and her two beautiful dogs Atlas and Hya (known on Instagram as @atlasandhya).
Phoenix is the sprawling capital metropolis of the U.S. state of Arizona.  Located in the southwest of the country, Phoenix is know for its' beautiful Desert Botanical Garden, luxury spa resorts and close proximity to the breathtaking hiking trails of Sedona.  
So now that you know where we are, let's go check in with Justice, Atlas and Hya!
Who are you, where are you from and what do you do?
My name is Justice and I'm originally from San Antonio, Texas!  I moved around for school and work a lot, but now I'm living in sunny Phoenix, Arizona.  I'm going into my last semester of graduate school.  This December, I'll have a M.A. in Social Justice and Human Rights from Arizona State University! (>> *insert standing ovation from L&C Crew here <<)
I currently live on my own, but I've been in a long-distance relationship for three and a half years with my partner who I met in undergrad!  His name is Alan, and he has an adorable black mini poodle named Cici.
We are making plans for them to move to Arizona with us within the next year so he can start his Naturopathic Medical studies. (Hey Alan and Cici!)
How, or has, your routine changed over the last year?
The question of the hour!  I've been fortunate enough to be able to study and work from home since March 2020.  It's so nice to be able to spend time nurturing myself and of course my two pups, Atlas and Hya. 
Now, I'd like to believe that our little family is the focus of our lives, instead of external things from pre-pandemic.
How have you been spending your time?
Recently I've been making sure I finish out this degree in a strong and positive way.  When I'm not working on my M.A. thesis, or working alongside a team to plan our annual TEDx event on campus, I love to spend time outdoors and take time to appreciate life and what it has to offer us at this time.
Have your dogs learned any new skills or have you had any new members join your family?
Hya, our blue Merle Shetland Sheepdog joined the family in January 2021!  She's been such a perfect addition to our household and even though she's still young and little,  I love watching her grow and put her big brother Atlas in his place.
Atlas, our American Eskimo dog, truly has learned how to be more of a team player.  He FINALLY realized that the world doesn't revolve around him (shocker!).
Have you gone on any special staycations or vacations?
I actually just got back from a short, dog-free vacation on the Big Island of Hawai'i with my significant other!  But as a dog mom, trips like that are a little bit few and far between.  In the past year, the dogs and I have traveled to and from:
Hopefully, there will be more to come!
What's one thing you and your pet learned about yourselves over the last year?
I think the most important thing that we've learned this year is how to stress out about the small things.  They may seem significant at the moment, but in the grand scheme there's so much more waiting for us!
This year has taught us to love and appreciate ourselves and our loved ones.  Hya and Atlas are (still) learning what it means to be a doggy duo as well as how to navigate and thrive in this big world.  But they've been learning to trust each other and to trust the people they meet more and more.
A HUGE thank you to Justice, Hya, and Atlas for letting us hang out with them.  Be sure to follow their adventures and studies on instagram @atlasandhya!
And be sure to check back here on The Goss as we globetrot on to our next dog mom destination!