How Are We Living, Costa Rica? [Check Out the Post Pandemic Lives Of Dog Moms From Across the World]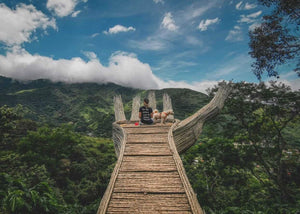 After a year of lockdowns, tp shortages and quarantine, dog moms everywhere are ready kickstart our post-pandemic life.  And mission number one is:  travel the globe.  
Which is why we are extending our National Dog Mom Day Celebration throughout the entire month of May!  While you wait for your passport renewal to process, why not jet set with L&C as we interview dog moms from around the world to see How Are We Living?
For our first stop we are headed to the gorgeously rainforested Central American country of Costa Rica to visit Ana Beatriz and her dancing lady pup of the tropics, Macarena (@miss.maca on Instagram).
So tell us, who are you, where are you from and what do you do?
I'm Ana Beatriz, or as many people know me, Miss Maca's mom.  I'm from the tropical country of Costa Rica.  We've lived in the capital, San Jose, for the last 3 years.  Besides being Maca's momager, I work as a UI/UX Designer for a company called Gorilla Logic.  So in summary, my life is a balance between creative content and technology.
How, or has, your routine changed over the last year?
It's funny because I was used to working from home — that was actually one of the reasons why I decided to adopt Maca (besides giving that cutie pie a home ❤️).  Pre-pandemic I had to go into the office 2 days a week.  So now I just don't go in.
My routine did change in other ways too; mostly in terms of socializing which I guess is the same as everyone else.   We live in a very popular neighborhood full of cafés and restaurants.  And we have some friends here too.  So Maca and I were used to visiting them in the cafés and restaurants.  She would say hi to everyone and allowed everyone to pet her.  There were no distance restrictions or people capacity limits in places...but now things have changed.
We can't enter as freely as before and I need to be aware not to allow everyone to pet Maca because of hand washing concerns.  Also we aren't interacting with new people as often as before.  But the good thing is that the pet owners from the neighborhood are now much closer.  We kind of created this small community and arrange small play dates for our dogs each day.  And while they play, the dog moms and dog dads get to talk. lol Also, we created stronger bonds with special friends who became more like family.
How have you been spending your time?
I've been spending my time creating content for Maca, playing with her, walking our neighborhood, making play dates in the park with our besties who live in our building and binge watching tv series. lol
Has Maca learned any new skills during the past year?  Did any new members join your family?
Maca has learned a few new tricks like roll and legs.  She also asks for permission when she wants to get on my bed.  She gets up a little bit later now (lol) and she doesn't bark as much as she used to when she hears motor bikes.
No new members have joined our family...for now.  I have considered it but decided not to add any until I have a bigger place.
Have you gone on any special staycations or vacations?
Yes!!  Last weekend I planned a mini trip to the beach so Maca could meet the ocean!!  It was Maca's first trip to the beach AND my first real vacation too! lol
I felt like a newbie at traveling again.  I overpacked, I was concerned about Maca managing the heat or if she would like the beach.  I even thought about taking some photos but then forgot because of my being overly concerned! lol  But she had a great time, she loved the beach; especially during the morning when it wasn't too hot.
What's one thing you and Maca learned about yourselves over the last year?
We learned to listen to each other more and to take real time for ourselves.  We are a little family and we depend on each other.  I know she'll do anything for me and I'll do anything for her. ❤️ 
A huge thank you to Ana Beatriz and Maca for sharing some of their lives with us. Be sure to visit them both on Instagram at @miss.maca.  And be sure to check be here on The Goss as we globetrot on to our next dog mom destination!