How Are We Living, Montreal? [Check Out The Post Pandemic Lives Of Dog Moms From Across The World]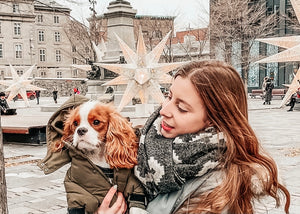 From our last stop in tropical Costa Rica, we are hopping a flight up the northern hemisphere to the home of the famous Cirque De Soleil in beautiful Montreal.  Here we meet our next fabulous dog mom and pupper duo, Cara and Henry the Smol.
Montreal is the largest city in Canada's Quebec province and sits on a island in the Saint Lawrence River.  So now that you know where we are, let's continue our dog mom celebration and go meet Cara and Henry!
So tell us who are you, where are you from and what do you do?
I'm Cara dog-momager to Henry The Smol (@henrythesmol on IG) and creator of the city dog lifestyle blog henrythesmol.com.  I'm a social media manager and marketing director for a network of eight daycares in Montreal (as well as a part-time blogger and content creator).  Juan is Henry's dad and he is a marketing consultant who runs his own digital market agency.
We're from Montreal, Quebec, Canada.
How, or has, your routine changed over the last year?
My routine has changed tremendously.
As a previous dance studio owner, I was working around the clock.  I would work on administrative tasks during the day and teach from about 4pm until sometimes 10pm.  By the time I'd get home, it would be 10:30pm-11pm sometimes.  And this was almost every day.  I would also spend the majority of my weekends at the studio as well.
Whether it was preparing lesson plans and programs, doing accounting, handling customer service or preparing for our year-end recitals, I never really realized to what extent I was stressed and anxious all of the time.
The pandemic "forced" me, in a way, to stop, slow down and realize how much I needed to take care of my mental health.  Spending so much time at home, I was able to check-in with myself and ultimately come to the decision of closing the studio; as it just wasn't bring me joy anymore.  As much as I loved my team and my students, I had to do what was right for me and my health.
Now, I work from home, I have a flexible work schedule, I go outside at least once a day, enjoy my weekends and I spend lots more time with Henry and Juan (my partner).  My anxiety and stress levels have decreased significantly.
How have you been spending your time?
As a social media manager, I spend most of my time at the computer.  Luckily, my schedule is flexible enough that I can set my own hours.  At the moment, lots of our restaurants are still closed and we also have a curfew.  So there isn't much to do in the evenings except stay home (and watch Netflix haha!).  Although dog parents are allowed to walk their dogs after 8pm (thank goodness!).
Because of all the "extra time", I was finally able to start my blog in June 2020, and discover a true passion I had for social media — especially when it comes to connecting with people and making new (dog mom!) friends.  
Of course I've also been spending a ton of time with Henry, working on training, creating content, etc.
Has your dog learned any new skills?
Henry has definitely gotten a lot better at keeping himself busy while Juan and I work at our desks.  He doesn't bark for our attention as much as he used to.
Henry is a reactive dog, so on walks he is triggered to bark or pull the leash when he sees things like birds or moving leaves (or trash).  We've had to train him (and still do!) to stop pulling and barking on walks.  It makes walks so much more fun (I wrote a blog post all about it! lol)*
*You can check out Cara's blog post here!
Have you gone on any special staycations or vacations?
Right before the pandemic and lockdown hit, we were coming back from California on our first family vacation!  We haven't been on any staycations yet, but we have enjoyed a lot of special occasion boxes from some of our favorite restaurants at home.
What's one thing you and your pet learned about yourselves over the last year?
I learned how my anxiety can be felt by Henry.  Training him has helped me develop a lot more confidence, and caring for Henry has helped me to focus on him more than things that made me anxious and where out of my control.
And, of course, being a part of the dog mom community online has helped me to learn new things I really like about myself; which has in turn made me feel more confident, happy and motivated!
 A HUGE thank you to Cara, Juan and Henry for letting us hang out with them.  Be sure to follow their adventures both on Instagram @henrythesmol and over on their city dog lifestyle blog henrythesmol.com! 
And be sure to check be here on The Goss as we globetrot on to our next dog mom destination!