How Are We Living, SoCal? [Check Out The Post Pandemic Lives Of Dog Moms From Around The World]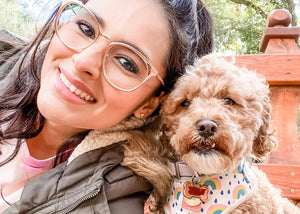 Ready.  Set.  JET SET!  We are off to our next destination and I happen to think it's the perfect place to spend some of our summer.  Welcome to beautiful Southern California and our next dog mom duo — Vanessa and Daisy (@itsdaisyandvanessa on The Gram). 

These two have spent their time bonding while learning the value of having new experiences with the people we love — especially when going through life's many changes.
So let's see what these two have been up to...
Who are you, where are you from, and what do you do?
My name is Vanessa and I'm Daisy's mom —among other things. We live in Southern California.  I recently graduated college with a Bachelor's in Chemical Engineering (Congratulations, Vanessa!!!) and I'm currently taking some time off to adjust to the drastic change from our old life.  Going from being a student to this new life where I'm just supposed to suddenly have everything figured out.
I currently work at a dental practice during the week.  

How, or has, your routine changed over the last year?
My routine is completely different. And it changed multiple times during the pandemic.  At first, I was a college student coping with being at home all of the time.  Then I was an unemployed college grad enjoying every moment of every day with Daisy.  Then I went back to work as a waitress during the week. And now I'm working at a dental practice with three-day weekends I spend entirely with Daisy.
How have you been spending your time?
I fill my time with the things that bring me joy.  If there is anything I learned this past year it's that life is too short to not be doing the things we love. 
So I took up reading again; a past love. I started watercoloring. I journal in the mornings — not every morning but I try. I also took up Pilates which has been transformative for my body.  I drink my water.  I'd started cooking. And I even went skydiving. 


Has your dog learned any new skills or have you had any new members join your family?
Daisy is more responsive to me for sure.  I think all of the time we spend together now has greatly improved our bond.  I remember when quarantine started I thought this would be the perfect time to teach Daisy plenty of new tricks. But that never happened.
No new additions to the family.  We are happy being just the two of us right now.
Have you gone on any special staycations or vacations?
We have gone on a few trips.  We spent a weekend in an isolated cabin in the Big Bear area.  We spend a weekend visiting Joshua Tree National Forest.  We took a day trip to the mountains and played in the snow for the first time. And we spent a weekend in San Francisco.
All were incredibly cathartic and so incredibly lovely.  Daisy is such a good travel companion.
What's one thing you and your pet learned about yourselves over the last year?
We learned to listen to our intuition and our heart.  It's never too late to start doing the things you want to be doing.  It's never too late to make changes, no matter how drastic they may be.  Finally, to reiterate, we learned to fill our lives with the things and people who bring us joy.
A HUGE thank you to Daisy and Vanessa for letting us hang out with them.  Be sure to follow their adventures and studies on instagram @itsdaisyandvanessa!
And be sure to check back here on The Goss as we globetrot on to our next dog mom destination!