Most Loved Pet Toys For Dog Moms With Neutral Homes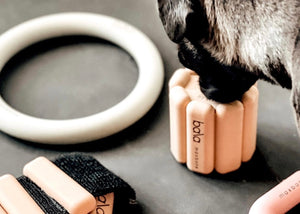 This blog post contains affiliate links. This means U may earn a small commission at no additional cost to you should you choose to make a purchase using my link. I love all of these companies and you will too!
Raising three dogs means one thing: lots and lots of pet toys. It takes a village to entertain Paris and The Twins on a daily basis. 
While my pups do love their daily walks, backyard zoomies and snuffle mat work, sooner or later I'm going to have to break out some good ole squeaky toys and chew sticks.  Especially as I'm still working from home.  So I have to keep a good rotation of entertaining toys around to maintain the peace and quiet while I work. 
But just because our puppy toy bin stays stocked doesn't mean I have to compromise on the serene vibes of my neutrally styled home. Unsightly dog toys be gone!
So today I'm rounding up some of my favorite dog toys which bring all the gorgeous aesthetic vibes a stylish dog mom could ask for.  
Come through aesthetic!
8 Dog Toys For Pet Parents With Neutral Spaces

Plus don't forget to use our code 'LINDSEYANDCOCO' to save 15% when shopping our favorite toys from www.maxbone.com.
Happy Shopping!
Xo, Lindsey