12 Stylish Finds Dog Moms Actually Want This Spring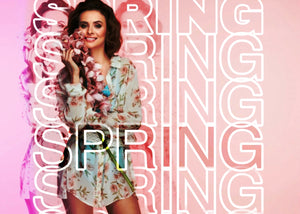 This blog post contains affiliate links.  This means I may earn a small commission at no additional cost to you should you choose to make a purchase using my link.  I love all of these companies and you will too!
Okay, we're totally playing favorites here today.  Spring favorites! The cherry blossoms are finally blooming and National Dog Mom Day (May 8th) is just around the corner.
Your amazing dog mom friends are way too polite to tell you when their Dog Mom Day pressies are...erm um...less than par?
So to save everyone from that awkward moment when a terrible gift is given, I've rounded up this list of 12 things dog moms actually WANT this season!  So get your credit card out!
Gifts For Her
Yes, yes I know..."florals for spring....ground-breaking," in my best Miranda Priestly voice.  But there is a reason why flowery prints show up annually in spring collections the world over; BECAUSE WE FREAKIN LOVE THEM!  
This year though, we are jushing them up a bit with some chic vintage inspiration or a few edgy details.
Flores Verona Crepe Smock Dress 
Flores Cotton Sleeveless V Neck Dress
But if your dog mom friend just cannot bring herself to don some flowers, then help her channel some nautical vibes with this simple number.
Tommy Rib High Neck Sleeveless Dress
For The Dog
If we are going to refresh our wardrobe and our home accessories every season, then there is absolutely no excuse not to include the dog.  Earn yourself some extra tail wags this season with these super cute pet accessories.
Twist Toss Robber Dog Chew Toy
OUAI Fur Bebé Pet Shampoo
GO! Portable Bowls
OUAI x maxbone  Plush Toy
Curly Knit Jumper
For The House
Don't limit your spring refresh of your home to just pillow covers and linens.  Compliment your softer tones and dreamy fabrics with these super cute pet beds. I'm sure you'll fall so in love with these dog crate and lounger solutions that you'll want to use them for more than just a single season.
Unwind Lounger in Rose Dust
Radius Pet Crate
Kindtail Pawd Collapsible Dog & Cat Crate in Pink
Goetz Wood and Wire Design Medium Pet Crate
So there you have it.  Twelve stylish trends dog moms would love to be gifted this spring.
To keep an eye on the latest dog mom lifestyle trends and tips be sure to follow us over on Instagram!