L&C Summer 2020 Box of Style Review [Instantly Upgrade Your Style Factor]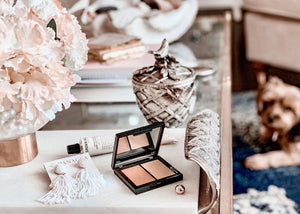 Hey Babe!  If you are anything like me, you've spent most of Spring/Summer 2020 in Martha Stewart Gets It Clean decluttering and reorganizing mode.  Now that your Casa de Quarantine is all pristine and lean, it's a perfect time to introduce some additional high end classics to your collection.  Entrez dans la case du style... (Spoken dramatically in my best Brigitte Bardot accent.)
Box of Style, courtesy of Rachel Zoe, is every dog mom's secret weapon for an instant luxe lifestyle upgrade.  In today's post I'll share with you everything that comes in the Summer 2020 fashion and beauty box; which by the way is now on sale!!!  (You're welcome...hair toss)
The Henny + Lev Canvas Weekender, Retail $159
Quarantine won't last forever.  Sooner or later we will all be back to our glorious travel routines and this gorgeous piece will make the perfect travel buddy.  Spacious, with a classic design and versatile carrying options, this leather and canvas weekender is one posh piece.

Since I'm every bit the jet setter who stows away massive amounts of beauty products, I selected the Henny + Lev Max Makeup Trunk for my bonus item (Retail Value $50).  Not only are both pieces a style win, but they are made of durable canvas and vegan leather.  Helloooo 2021 Wanderlust!

The Peter Som Dream Floral Print Sarong, Retail $195

For all tropical getaways a cute coverup is an essential.  This floral sarong from Peter Som definitely checks that box.  I opted for Meteorite instead of Rose Quartz for my sarong, but you cannot go wrong with either of these two beautiful options.  
Kosas Color & Light Palette, Tropic Equinox, $34
Is it even summer if you are not bronzed and highlighted?  I think not.  Luckily for us, Style Goddess Zoe included this beautiful palette which compliments all sun kissed skin tones.  The Box of Style Guide which comes with every subscription even gives you pointers on how to nail the dewy glow look.  Smooth and creamy these two go on flawlessly whether you are completing a full beat or wisping a hint of color on a fresh face.
Grown Alchemist Hydra-Repair Day Cream, Retail $49
As someone with sensitive skin which has the nerve to also be oily, I am always on the hunt for beauty products which are gentle, vegan and light.  A popular skincare myth is that women with oily skin don't need to moisturize.  But that could not be farther from the truth!  One of the main factors which can contribute to chronically oily skin is the lack of proper hydration.  Grown Alchemist delivers with this hydrating cream which I've gladly added to my morning routine.
Panacea Beaded Tassel Earrings, Retail $55
Babe.  These soft, coral-inspired drop earrings are everything!  Please excuse me while I rock these gorgeous babies with every summer outfit I wear from now through Labor Day!  From balmy beaches to fêtes fabuleuses, Panacea will have you glam ready.
So that is everything in the Summer 2020 Box of Style and I am totally hooked!  Needless to say this style subscription is totally worth the price!
Are you a Box of Style Believer?  Or is there another subscription collection that you swear by?  Share with our squad in the comments below!
Written By Lindsey | August 11, 2020