L&C Review CURATEUR'S Fall Lifestyle Box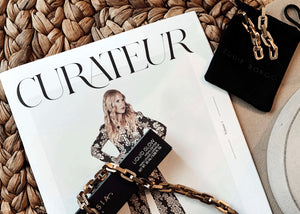 With a new name and maximum style upgrade, Rachel Zoe's lifestyle subscription, CURATEUR, does not disappoint.
Dedicated to providing women easy access to curated luxury, the Fall 2020 CURATEUR delivers on this season's must haves.
The Curation
The Take-It Anywhere Tote, Rachel Zoe Collection ($115 Value)
Roomy enough to fit your laptop or your daily essentials, this bordeaux tote is the perfect bag for Fall.  One of the things I love about Rachel Zoe is she knows being environmentally conscious does not mean you have to compromise on style.  Made of vegan leather, the Take-It Anywhere Tote is sustainable and chic in the perfect Autumn hue.
The Complexion Corrector, Kat Burlington Control Marine Collagen Gel ($160 Value)
Due to unforeseen shipping delays, I have not yet received the Complexion Corrector in my CURATEUR deliver.  That said, I cannot wait to receive this little gem which boasts a collagen-packed plumping formula perfect for hydrating skin during these cooler months.
The Glow Getter, Anastasia Beverly Hills Liquid Glow in Perla ($25 Value)
The Queen of Brows has blessed us yet again.  This time she's letting us know that summer's dewy glow doesn't have to end just because the season changed.  Glowing skin is always in style and this pigmented highlighter by AS is the key.  This formula is perfect for mixing with your own foundation or dabbing on your cheekbones, brow bones or nose.
The Sumptuous Staple, Eddie Borgo Supra Link Collar Necklace ($350 Value)
This golden link necklace is the perfect balance of classic design and retro flare.  The chunky 80's link design has been sleeked down into a more elegant silhouette which allows this necklace to transition from day to night easily; upgrading any esthetic with a pop of glam.
The Abstract Accent, Eddie Borgo Supra Link Earrings (Bonus Item, $195 Value)
Since I have an obscene amount of sunglasses in my collection, I went for the Supra Link Earrings as my bonus choice.  With the same gorgeous golden link design as the collar necklace, these earrings are perfect for sweeping updos where they can be on full display.
In addition to this amazing Fall Haul, CURATEUR promises to deepen its roots as a luxe lifestyle brand and I, for one, am here for the expansion!