L&C Go Behind The Brand With Girl In Flux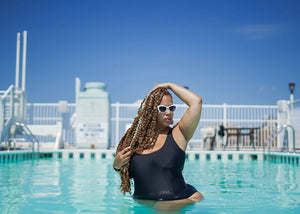 We couldn't even pretend to be celebrating The Dog Mom Days Of Summer without talking swimwear.  After all what is more season appropriate than poolside cocktails and sandy lounge chairs?  Go on...I'll wait.
So for this edition of L&C Go Behind The Brand we sat down with Girl In Flux - a brand dedicated to one thing and one thing only: absolutely slaying your swimsuit game.  
How?  Let's put it like this.  Their tagline is Shapewear + Swimwear...Because duh.
Uh yeah, exactly.  With a motto like that we know they didn't come to play.  So let's get down to business with the Solopreneuring Sovereign of Swimwear herself and Girl In Flux Founder, Kim Merejo.
So tell us the story behind Girl In Flux.  How did you come up with the idea for the brand and the name?
I actually first launched the brand in 2015.  At the time I was making dresses and separates for women in that "inbetween" size range aka "in flux" or in the middle.  Not exactly straight size and not exactly plus.  Falling in the 10 to 18 size range.
Back then, the inbetween or midsize range wasn't yet popularized so alot of people didn't understand the intent.  But I soon realized that traditionally plus-sized women really needed more options as well; which is why I now cater to women in sizes 8 to 26.
In addition to the literal definition of "Girl In Flux", the brand also describes the women who realize they don't have to box themselves into one thing and embrace the concept of dualities.  Women who might exercise and have a salad for lunch then binge watch Netflix and have ice cream for dinner.  The girl who wears a $3 thrifted blazer with $180 designer jeans.  It's for women who are on a journey of loving themselves and realizing that they are in the driver's seat.
If you had to describe Girl In Flux in just 3 words, what would they be?
I'll give you two words and a phrase.  Is that allowed?  lol Liberated. Confident.  Ahead of the curve (see what I did there? *smirking face)
Tell us a little more about the brand's history and it's goals for 2021 and beyond.
So as I touched on earlier, when I started out I was doing sportswear pieces.  In my first collection under Girl In Flux I included a basic black one-piece with these dope curve-positive graphics like "Cornbread Fed" & "Got Body".  I had a friend at the time who also happens to be an amazing actress that wore the suits and posted them to her IG.  The photos ended up going viral and I had this huge uptick of orders.  The feedback I received about the fit and quality was so rewarding that I decided to pivot into swimwear exclusively.
It's easy because I've actually worked as a swimwear, intimates and foundations patternmaker in the fashion industry for 15 years, but I wanted to do something different for my own brand.  Anyway, soon after I launched I found out I was pregnant.  So I took some time to go full on mommy-mode.  Had my son in 2016 and my daughter in 2019.
 Although I had body image insecurities since I was a teenager, after having children the struggle was stronger than ever.  I was conflicted with loving this new body that had birthed two hearts, and the pressure of snapping back to a pre-pregnancy body that I had fought to get down to a size 10.  
It was during that time that I decided I didn't have to choose.  I could love my body and still want to improve it.  I could love my shape and still feel more comfortable at the beach or pool with something that holds me in and lifts me up.
The Sculpting Maillot is the first sexy, modern cut swimsuit on the market with a hidden shaping layer and an actual bra inside.  I introduced it to the industry in just one colorway because I wanted to make sure there were other women out there like me that wanted maximum support beneath a whole lot of sexy. lol. 
I'm so grateful for the reception so far and this year I'll be adding new styles and colors to the site.  And I'm all about making the beach or pool a fashion event so you might even see some amazing swimwear compliments (also known as cover-ups. But let's normalize not feeling like we have to cover something up, kay?)

(Inside the "supportive" swimwear)

(Inside the Sculpting Maillot)
To say your shapewear and swimwear is revolutionary is putting it mildly.  Can you tell us a little bit about the science behind your range?
To be completely honest it's bananas that the idea wasn't revealed to me sooner.  Like I said I've worked as a swimwear, intimates and foundations patternmaker for 15 years.  It only makes sense that I would combine my areas of expertise into one product that becomes the ultimate solution for those of us with swimsuit anxiety.
As an entrepreneur and fellow busy mom, do you have any tips for other female business owners/creatives looking to start their own business?
Take your time.  It's easy to get frustrated when progress seems slow because there are always mouths to be fed, bottoms to be wiped, laundry to be ignored in a basket for a month. lol  (*insert >> Lindsey's "I feel seen face" here <<)  We live in a social media world that makes overnight success seem normal, when it couldn't be further from the truth.  
There's no rush.  No race.  Start, definitely don't delay your dreams and passions. But take your time on the journey and realize that as an entrepreneur you determine your own timeline and you have the freedom to adjust it.
 
Needless to say L&C extends a HUGE thank you to Kim Merejo, Founder of Girl In Flux for giving us this amazing interview. Please be sure to follow this revolutionary brand over on Instagram at @girlinflux.nyc and visit them on their website www.girlinflux.nyc.