L&C Review CURATEUR'S Winter Box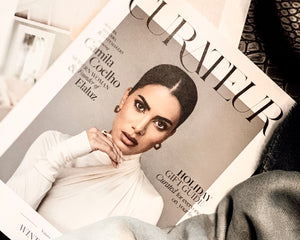 This blog post contains affiliate links.  This means I may earn a small commission at no additional cost to you should you choose to make a purchase using my link.  I love all of these companies and you will too!
It's that time of year again.  Time for CURATEUR's Winter edition.  And let me say, receiving this box every season is quickly becoming one of my favorite things.  Nothing makes staying at home a little easier than a seasonal style box packed with chic goodies curated by Rachel Zoe herself.
So without further adieu, let the unboxing begin.
THE CURATION

Amber Sceats Emery Cuff, $169 Value
I am absolutely obsessed with this crushed gold cuff.  I mean can a girl HAVE too much gold? I think not.  Amber Sceats' design is beautiful enough to be wore alone and has the perfect amount of texture to stack it amongst other bangles.  Fear not about sizing as the 24K plated brass cuff is easily adjustable.
Understated Leather Clutch, $110 Value
Ms. Zoe answered our prayers this season with this soft clutch.  Available in white or black, along with a detachable gold chain strap, this beauty is the perfect companion for a night on the town.  Whether tucked under your arm or dangling from your shoulder, this ultra soft clutch is sure to make an understated statement.
Elaluz 24K Lip Therapy, $28 Value
Quarantine in the Lindsey & Coco house has been all about self care and pampering our skin. And what is more luxurious than hydrating your lips with 24K gold lip?  And I'm not going to lie...just dabbing this decadent golden treatment over my lips had me feel as self-indulgent as Kylie Jenner herself. 
TALIANNA Catchall Tray, $75 Value
Nothing and I mean nothing compliments a neutral home decor like golden flashes of artisanship.  The TALIANNA Catchall Tray is so elegant you'll want to style it where all can see.  With its delicate detail you'll have no problem displaying your beauty products or jewelry.
CUSHNIE'S Grey Horizon Scarf, $150 Value
Wrap yourself in this soft gray ombré oversized scarf — so perfect for wrapping around your shoulders or rocking it as a belted top.  Paired with your favorite leather leggings and boots, this is the perfect winter look.