10 Perfect Gifts For Deserving Dog Moms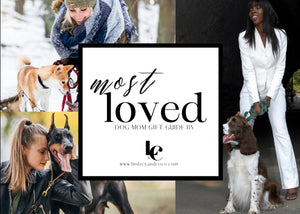 This blog post contains affiliate links.  This means I may earn a small commission at no additional cost to you should you choose to make a purchase using my link.  I love all of these companies and you will too!
There are gifts and then there are gifts.  The latter are the ones from those amazingly considerate friends and family members in your lives who always know just what to gift!  Somehow they find THE perfect present...every single time.  
Well guess what, babe?  Now that person is YOU!  This is the gift guide filled with perfect pressies for your dog mom pals.  So get ready for the most beautiful dog mom gift guide of all. (No basic betches here...wink, wink)
Okay.  Little known fact.  But dog moms love all of the dogs.  And I mean ALL of the dogs.  Nothing sends us all the feels like beautiful dog photos.  That's why this gorgeous book filled with vintage American photographs of dogs tops our list.  There is something truly special about photos which capture the love between a dog and her gal.
You already know that a gal's best friend is her dog.  So go ahead and solidify that  union in public with this pretty charm set from FriendshipCollar.  A BFF Dog Collar Charm and a matching charm for her wrist.  Love it!
These adorable Applique Espadrilles from Soludos are perfection for the Frenchie lovers in your life.  The faces of Teddy and Gigi are too cute for words.  Plus these shoes are super comfy.  Win:Win
Accidents are bound to happen from time to time in a dog mom's life.  But now cleaning them up is a snap with the gorgeous washable rug collection from Ruggables.  Dog momagers love when fashion meets function.
Here's an ode to dog art with this Farm Dog print from Jennifer Meyers.  A perfect addition to any home decor.
How about a matching dog collar and bracelet to go with those charms we mentioned earlier?  The pink and gold heart pattern on the Puppy Love Set from FriendshipCollar is perfection.
I'm a huge throw pillow girl.  There is something so comforting about snuggling into a sea of pillows; especially in the cooler months.  Add some whimsy to your winter with this adorable dog throw pillow from Potterybarn.
This dog food storage tin may contain your dog's treats but esthetically it is 100% dog mom approved.  Since the treat jar is no doubt in highly visible and easily accessible place, it might as well be pretty, right?
These winter dog ornaments are so nostalgic and sweet, they can compliment your home decor all winter.
Wipe your feet and your paws on this indoor/outdoor rug.  It's three dog print is neutral enough to compliment any home; inside or out.