Simple Life Hacks Every Dog Mom Should Know [For A Clean Home And A Healthy Pup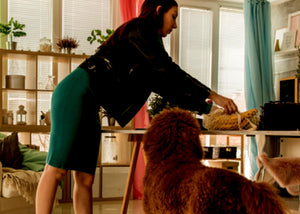 This blog post contains affiliate links. This means U may earn a small commission at no additional cost to you should you choose to make a purchase using my link. I love all of these companies and you will too!
By now many of us know the dog mom life is not all puppy cuddles and scenic dog walks. It's work. Hard work. Filled with vacuuming. So much vacuuming.
But before you resign yourself to a lifetime of pet stain scrubbing and bath time fights, check out these easy hacks designed to help you rethink your dog mom chores while effortlessly keeping a clean, pet-friendly home and a happy dog.

And don't worry we found stress-dress solutions at every price point because peace of mind should not be out of any dog mom's price range.

Affordable Dog Mom Finds:
Splurge Dog Mom Finds: