Pet-Friendly Travel [The Most Dog Friendly Hotel In Atlanta]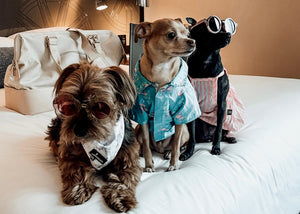 This blog post contains affiliate links. This means I may earn a small commission at no additional cost to you should you choose to make a purchase using my link. I love all of these companies and you will too!
Summer is calling and we've got you and your pups covered. All winter long dog moms everywhere dream of relaxing getaways and poolside soirées which all sound fantastic except for one glaring problem — what to do with your dogs?!

Many pet parents hate the idea of having to always leave their pets behind during vacation season; especially if they have more than one. Travel can be really challenging with larger dogs or multiple pets.


As a dog mom of three that's why I was so excited to spend a weekend at a truly dog-friendly hotel like The Kimpton Overland Atlanta Airport.

From the moment we arrived, the hotel staff was so welcoming throughout the entire complex. These people really love their dogs! And thanks to The Kimpton's "Every Pet Gets Their Wings" package, our room was set up with some travel perfect accessories for me and the dogs. The package includes collapsible pet travel bowls, a plush pet bed in the room, dog treats and a "Raid The Bar" coupon for you.

But even without the package, The Kimpton is so accommodating for dog owners. They provide courtesy waste bags for walks, in-room water bowls, plus they don't have a weight or number of canine guests limit, and no required pet deposit or cleaning fees.

A quick visit to their website confirms The Kimpton Overland Atlanta Airport also helps to pair pet parents with local pet sitting and dog walker services.

During our stay, Dylan's favorite place was The Rooftop Observation Deck And Lounge. Fun fact: The Kimpton is right next door to The Porsche Experience Track. This open air, rooftop lounge gives stunning panoramic views of the test track which was such a fun experience!

In addition to the hotel restaurant and 24/7 fitness center, the hotel also has an indoor pool and is conveniently located within 15 minutes of Atlanta's Centennial Olympic Park, The Atlanta Zoo, The World Of Coca-Cola, The Botanical Gardens, The Georgia Aquarium and so much more!

A huge thank you to the wonder team at The Kimpton Overland Atlanta Airport for hosting an amazing weekend getaway for Paris, Dylan, Delilah and I.
To shop our favorite summer safety dog mom travel accessories, tap the image below.  And don't forget to follow us on Instagram for even more behind the scenes fun!