Gift Card Stash Dash [Where Dog Moms Are Splurging]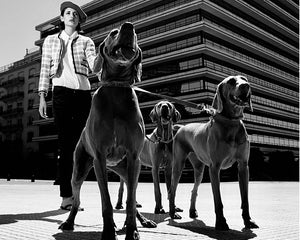 This blog post contains affiliate links.  This means I may earn a small commission at no additional cost to you should you choose to make a purchase using my link.  I love all of these companies and you will too!
Splurges...the unnecessary, mini (or mega if you please) spending sprees required from time to time to keep us sane.  At least they keep me sane.  There's something about crowning weeks or months of responsible spending habits with a bout of irresponsibility that just...makes you feel alive.  (Deep inhale, aah is that the fresh scent of new clothes in the closet I smell...yes, yes it is.)
Now I will be the first one to recognize that sometimes keeping the splurging to a minimum can be difficult.  Especially when you work from home.  I know I'm not the only one who finds herself roaming the digital sales racks at 2 am in the morning.  (It's ok to raise your hand in solidarity here.  You are among friends here.  No judgey judgey.)
So here are two ways this dog mom tackles the thin line between splurge and bankruptcy. 
First, be sure to pre-establish your spending cap before the splurge.  It's easier to keep the indulgences in check if you know your limit ahead of time.  A great way to limit your mini shopping spree is deciding in advance to only use certain funds; perhaps that stash of gift cards from your friends and family?
Second, limit yourself to more practical purchases...but with flare.  You know, spend your gift cards on those coveted items that you have been eyeing for a little while but never got around to buying.  Why?  Because if you purchase longer term wishlist items during your little spending spree, you'll be more likely to put them to good use - especially if there is a practice element to their appeal.
Now that we've gotten the responsible portion of this post out of the way.  Let's get to the splurge part.  I've browsed the internet for the hottest dog mom splurges and noticed two trends.  I am not the only one who's fitness routine sank faster than the Titanic in 2020.  AND us dog moms have committed to continuing to spend as much quality time with our dogs as possible in the new year. 
So the theme for kicking off this year (and this splurge) right is "It's practical because I'll be motivated to workout if my outfit and accessories are cute...p.s. don't forget about my dog."
Let the gift card stash dash begin!
Activewear Splurges

Women's Beach Riot Shawn Sports Bra at Nordstrom
Okay you didn't wake up like this but you'll defo work out like this!
Women's Beach Riot Ayla Leggings in Nude at Revolve
WFH Trend Alert: A girl can never have enough leggings!
NMD_R1 Cloud White Rose Gold Trainers by Adidas
Amen to glamming down to our toes...even during a workout.
Faux Fur Mini Puffer by Abercrombie & Fitch
When your coat is the best part of your outfit.
Tech Zebra Replacement Bands Light at Zulily
Keep a count of those calories without clashing your style vibes.
Reusable Wide Mouth Smoothie Cups at Amazon
Green smoothies on the go!
Skin Soothing  Solutions
OLEHENRIKSEN C-Rush Vitamin C Brightening Gel Creme at Sephora
Give your skin a kick with this vitamin rich splurge.
Tula Skincare Rose Glow & Get It Cooling and Brightening Eye Balm at Nordstrom
Brighten and rest those peepers with this soothing balm.
Pet Prezzies
Furbo Dog Camera at Amazon
Never miss a moment or treat o'clock again.
Aspen Pet Scarf from Max-Bone
Keep your pooch cozy and on trend with this adorable find.
Elma Poop Bag Holder by Max-Bone
It's a necessary task when your a dog mom...but make it fashion.
So there you have it!  Now go forth and splurge, babe!