Dog Mom Quarantine 2020 Be Like...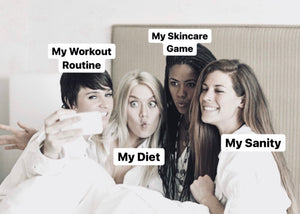 This blog post contains affiliate links.  This means I may earn a small commission at no additional cost to you should you choose to make a purchase using my link.  I love all of these companies and you will too!

With stay-at-home orders creeping up all over the country and stricter social distancing guidelines back on the rise, it's pretty easy to go a little mad.  After all...we all go a little mad sometimes, no?  
So today we are going to cover some mood-boosting activities to help make being stuck at home suck a little less.  And since you're a dog mom, you already have a leg up (well actually four legs up) on making the most of being homebound.  Good for you, Babe!
The Skinny
So before we go down this endorphine-boosting list, let's be honest.  Some of us (and I mean me) have been really good about a few things (a mean face mask game, keeping a regular work schedule, achieving expert doggy cuddler status), and horrible at others (inconsistent workout extraordinaire, trash diet connoisseur, sanity funambulist...New word alert! Feeling super fancy pantsy over here with my tightrope walker synonym.  It's the little things).
Let's get one thing straight right now: it is totally okay not to do all of the things all of the time.  I mean after all -- we're locked in the house with ourselves and our fur babies.  So who the heck are we competing with?
With that out of the way, we can all slow our competitive rolls.  Inhale.  Exhale.  Pick one or two things to work on to achieve our inner zen and woosah.  Say it with me now....Woooossaaaahhhh.
The Skincare Scholar
If there is one thing that quarantine is good for, it's the opportunity to step up our skincare game.  Rain or shine, we can spend the next couple of quarantine weeks ascending to supermodel-level skin pampering heights.  
That means drinking a gallon of water a day because we're home!  So there's no one to judge us over how many trips we make to the potty every hour.  Days on end sans make-up because with the exception of the occasional Zoom call, who's gonna know?  Plus a daily skin serum & face mask line up so strong it rivals the 2017 Coachella headliner list. (Ok ladies now let's get in formation...cause we slay!)
Shop Lindsey's Skincare Favorites
The Workout Warrior
Now I will admit that I am definitely struggling on this one.  Prior to Covid, I was a huge gym rat with a special affinity towards weight-lifting.  But alas, I have exchanged my personal trainer for myself...and I am NOT good at motivating my own fitness journey.
That said, it's never too late to start.  With an eye on consistency and gradually increasing the intensity of our daily workouts; dare I challenge us all to Abs By April?  Maybe, maybe not.
But with fellow dog mom friends like instagrammer Lena Samford whose workout video we featured here and some optimally placed home workout equipment, we can definitely commit to improving our fitness and flexibility over these next few weeks.
Shop Lindsey's At Home Fitness Faves
The Novel Nomad
Another great way to pass the time while you are stuck at home, is to grab a cozy corner and a good book.  Long for the bittersweet last days of summer?  How about a coming of age love story?  Adventures in the clouds or a futurist thriller?
If you cannot physically travel, satisfy your Winter Wanderlust with an escapism novel or two.
The Financial Femme Fatal
So one of the most satisfying things I accomplished during 2020 was upping my financial acumen and developing a personal investment strategy.  While I am no Alice Walton (Walmart heir & Forbes 2020's Richest Woman in the World), I am proud of myself for taking the time to learn the basics about personal finance, investments and the stock market.
To be honest, I was tired of feeling financially illiterate so I took matters into my own hands and studied several financial planning books.  What better time is there to alter our spending and saving habits than during a time when we are stuck at home and unable to spend?
Shop Lindsey's Personal Finance Faves
The Winter Wonderland Wanderer
Even if you are not ready to dive into full-on Workout Warrior Mode, what about making the most of the outdoors with your fur baby?  For inspiration look no further than Instagram dog mom pals like @maggielovesorbit @puppynamedcharlie and @galsbestfriend.  Despite the cooler weather, all of these dog moms look for creative, fun ways to get outside with their furkids and decompress.  
Just be sure to wrap yourself and your pup in the proper winter gear.  Then set out on a walk around the neighborhood or local park.  If you're in a milder climate, how about an afternoon coffee run to a local outdoor café?  Even fellow dog mom instagrammer @tmistick got creative with this one and recently took her pup to an indoor pool for a swim session.
The point is just because the weather is colder and we are still social distancing, that does not mean we cannot find safe options to get some fresh air and stretch our paws.
The Organized Opportunist
This last one I have sporadically attacked over the last nine months and I am now on my final room: my master bedroom closet.  I cannot tell you the joy it is to declutter one's home room by room at a leisurely pace.
While it may seem overwhelming at first, just start with one room or corner of a room at a time.  Decluttering and repurposing your home furnishings can really freshen up a space and give it a whole new comfy vibe!  Plus, you'll be ahead of the game when it comes time for spring cleaning!