Your At-Home Workout Playlist For These Dog Mom Days Of Summer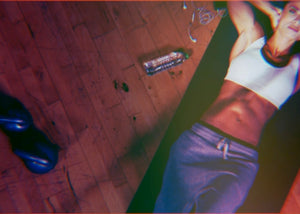 We are half way through our Dog Mom Days Of Summer and if you haven't already settled on a bomb workout list, what are you even waiting for?  A good playlist helps you dig deep, regulate breathing and makes your sessions go by faster.
For today's playlist I pulled from some of my favorite Peloton Cycling sessions.  These songs will take you from an upbeat warm-up to get your heart rate going, to a beast-mode workout and then slide into a smooth cool down.  So enjoy!
The Warm-Up Playlist
Check On It ( Featuring Slim Thug) - Beyoncé

Rock With You - Janet Jackson

Drogba (Joanna) [Global Latin Version] - Afro B & Ozuna

Confetti (feat. Saweetie) - Litter Mix

React - The Pussycat Dolls
The Beast-Mode Playlist
On My Own ( Featuring Kid Cudi) - Jaden

The Greatest - Sia

Say My Name - David Guetta, Bebe Rexha & J Balvin

Suavemente - Elvis Crespo

SICKO MODE - Travis Scott

World, Hold On - Bob Sinclair

Bubble Butt ( feat. Bruno Mars, Tyga, & Mystic ) - Major Lazer

Pound The Alarm - Nicki Minaj

Safari (feat. Pharrell Williams, BIA & Sky) - J Balvin

TKN - Rosalía & Travis Scott

M.I.L.F. $ (Nick Talos Remix) - Fergie

Cruel Summer (feat. Odee) - EC Twins & Dmitry Ko
The Cool-Down Playlist 
Yellow - Coldplay

2 Become 1 - Spice Girls

Together (Initial Talk Remix) - Sia

Waterfalls - TLC

Crush - Jennifer Page