10 Minute Glute Burner With Dog Mom Lena Samford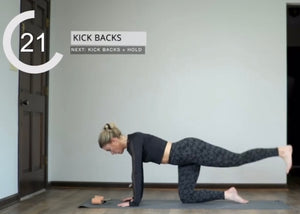 It would be amazing if you could go to the gym everyday or casually scroll into your very own home gym.  But for most of us we don't have the time or finances to make either of those options a reality.  But that doesn't mean you can't get toned and lean at home!
For at-home workouts we looked no further than our fave plant-based, Missouri native dog mom, Lena Samford.  Lena is one of the very first dog moms we connected with on Instagram and has home fitness on lock.  So if you have 10 minutes, then Lena has the perfect glute-burning routine for you!  
Click the photo below to watch Lena guide you through this bum burner.
What You'll Need: Yoga Mat, Resistance Band
10 Minute Glute Burner With Dog Mom Lena Samford
The Warmup (2x):
Duck Walks
Good Mornings
Sumo Squat Pulses
The Routine (2x):
Fire Hydrants
Donkey Kicks
Kick Backs
Kick Backs + Hold
Rainbow
Kneeling Squats
Glute Bridges
Times Up!
For more killer at-home workouts and wellness tips, visit Lena Samford on her Instagram @lenasamford.