14 Movies To Stream With Your Dog This Fall And Winter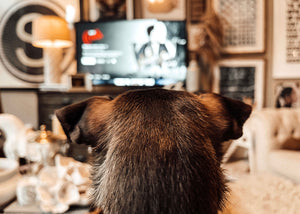 It's a well-known fact that one of the most loved past times of dog moms everywhere is snuggling on the sofa with our pooches and streaming a good movie.  Bring on the cozy blankets, piping hot cups of cocoa and a never ending bowls of doggie snacks!
Not sure what to stream on movie night this winter?  Same. So we scouted out some of our favorite movies streaming this season starring none other than our favorite costars: our dogs. 
Nostalgic Streaming:
1. Legally Blonde on Netflix
2. Lady And The Tramp (the original) on Disney+
3. Snoopy Come Home on Hulu
Reimagined Streaming:
1. Cruella on Disney+
2. Jungle Cruise on Disney+
3. The Secret Life Of Pets on Disney+


Binge-Worthy Streaming:
1. Petsonq on Netflix
2. Haute Dog on HBOMax
3. Best In Show on AmazonPrime
Working Dog Streaming:
1. The Call Of The Wild on HBOMax
2. Pick Of The Litter on Hulu
3. The Art Of Racing In The Rain on Disney+
4. Canine Intervention on Netflix
5. Dogs on Netflix

L&C Fan Favorite Streaming Pick: Cruella 

Cruella tops the list as our favorite dog mom streaming pick!  Imagine Banksy meets The Devil Wears Prada with a few Dalmatians mixed in and you've this fashably adorable backstory on one of Disney's most renounced villains.  


Need some movie night supplies to get ready?  Then check out our blog post "A Cozy New Year's Eve In [How To Spend NYE In]" for our top picks to get you and your pup ready to stream in style!