5 Epic Ways To Celebrate A Low Key Galentine's Day At Home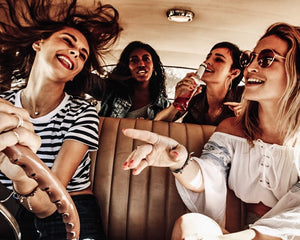 Who's your best gal pal? As dog moms, chances are it's the ball of fluff curled up next to you. After all dogs are a girl's best friend.

But on February 13th gals across the globe celebrate their best gal pals of the two-legged variety with Galentine's Day. A day to celebrate all of our amazing friendships with are favorite girls.  Because the only thing better than being a dog mom is being part of a dog mom crew.

So today we're covering the best Galentine's Day celebrations and traditions!
Gals Trip!
Ok so obviously our absolute fave way to spend Galentine's Day is on a girls' trip! What better way to celebrate your fave friendship than on the beaches of some exotic island or sipping cocktails poolside with 5 of your best gal pals?

Clearly February 2021 isn't ideal for this type of celebration, but you CAN take a rain check on that trip and start planning a post-Covid Galentine Extravangza for your crew!

Why not schedule a Zoom travel planning session with your besties on Galentine's Day and get to planning?

Gal Pal Brunches
Clearly gal pals love brunching. I mean what is better than getting glammed up for a leisurely meal with your besties which starts at 11am and runs until 3pm, and where the mimosas flow freely? Absolutely nothing.

If there is one thing dog moms can do really well it is eat, speak, drink, repeat!

Even if you can't connect for this yearly brunch, why not have a virtual brunch? Make it fun by sharing a few simple recipes beforehand and then laugh along with your crew while you all prep your brunch meals together on Zoom. Or you can try doing a Galentine's Day Iron Chef Challenge where you all create competing creations and then vote for the best presentation on Zoom.

The nice thing with these Zoom brunches is you still get to enjoy the best part of a gals brunch which is silly fun and drinks on tap. Just make sure to stock your home bars before the big day!


Cocktails Gal-lore
Speaking of home bars, why not host a Galentine's Day Cocktail Hour. Whether you're hosting virtually or in person post-Covid, you can serve up the fun with your besties. Why not research a few mixology recipes, stock your bar and bar supplies. and then test your bartending skills?
You can even level up the wow factor and have everyone put on their best outfits for a little fashion fun!
Gal Mail
What if your absolute best gal lives clear across the country or on the other side of the globe? Why not send her a a Galentine's Day Care Package? Pack her favorite snacks, send fresh flowers, cute jammies, facial masks, or herbal teas? Or you can gift her a subscription of her favorite products?
Here's a list of some of the past subscription boxes that I've gifted my best girls.
This is actually one of my favorite subscription boxes to send. In fact, I loved it so much I even subscribed to it myself.  What girl doesn't love receiving fresh flowers?  And I absolutely love the unique assortment of boutiques which are curated for delivery every month. 
Goldbelly
Okay little known fact: I am a HUGE foodie!  I mean mega mega and this company speaks to my soul!  Send your girls signature foods and desserts from legendary restaurants and bakeries across the country.  (Psst Insider Tip: The Rainbow Strawberry Cake from Carlo's Bakey NEVER disappoints!  I've sent it to like 6 people and counting!)
What to get the gal who has it all?  Beauty products. A girl can never ever have enough beauty products.  And what I love about this subscription box is how affordable it is as well as all the different delivery cadence options. 


Vinebox
This wine subscription is also another great gift for the girl who had it all. Whether your bestie is a wine connoisseur or a novice, this box is perfect. Unlike other wine subscriptions, Vinebox sends out wine by the glass which is perfect for taste testing new brands.  And the packaging is just gorgeous. 
Movie Gala-thon
Lastly if you are looking for a more low key vibe, host a Gala-thon Movie Night. Break out the popcorn and the wine and watch your favorite movies together. And again, this suggestion works just as well virtually as it does in person.

Why just the other week I watched the new Wendy Williams Movie on Lifetime with two of my favorite gals virtually. Each of us prepared our snacks and drinks in advance and then luxuriated and gabbed through the whole premier!

No matter what you decide to do the important thing is to celebrate the very special bonds which exist between a girl and her squad. Happy Galentine's Day babes!!!