A Cozy New Year's Eve In [How To Spend NYE At Home]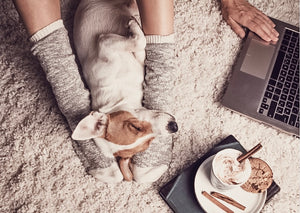 This blog post contains affiliate links.  This means I may earn a small commission at no additional cost to you should you choose to make a purchase using my link.  I love all of these companies and you will too!

Normally babes the world over would be in a fashionista frenzy by now, picking out their killer New Year's Eve look. But nothing about 2021 has been normal.  So instead of scouring the digital pages of ELLE or the scrolling the IG feed of their fave influencer for inspiration, dog moms every where are...well..stumped. 

But don't fret!  Crowded NYE parties are sooo 2019. This year a cozy New Year's Eve home is sooo fetch!  I for one am totally here for feasting on cartons of Chinese food, testing my puzzling-making and cocktail skills, and enjoying a great movie night.
So if this sounds like the 2021 New Year's Eve at-home night of your dreams, then it's time to check out the NYE accessories list you need now.  And I'll even throw in a screening list for some of the best movies for a New Year's Eve at home.  You're welcome.


What To Wear For A Cozy New Year's Eve At Home
The X You Cozy Patch Pocket Cardigan from Express
 The X You Metallic Turtleneck Sweater Dress from Express
 The Jessica Furry Cross Band Slide Slipper at Macy's





Dog Mom Supplies For New Year's Eve At Home
The Fireside Cozy Sherpa Reversible Throw from Pottery Barn


The Diptyque Mimosa Room Spray from John Lewis

The Tile Margot Monogram Mug from Anthropologie


The AkoaDa Turtleneck Classic Knitted Dog Sweater from Walmart



What To Watch On New Year's Eve


The Age of Adaline

Holiday Inn (1942 version)

The Women (1939 version)

Mermaids

Sex And The City: The Movie

Judy

Bridget Jones's Diary

Ocean's 11 (1960 version)

Eat, Pray, Love

Casino Royale

Spectre

The Spy Who Dumped Me


So now you've got the loungewear, supplies and movie list that Paris and I are using for NYE! Once we tuck in the twins, the big girl party begins! 2021 here we come!