5 Podcasts To Unleash Your Inner Creative [And Drastically Improve Your Productivity]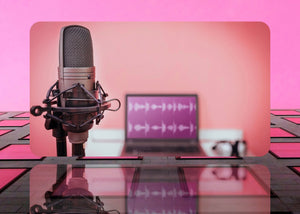 ICYMI, 2020 was the year of the audio interaction.  Apps like Audible, Spotify, podcasts, books on tape and the great social media disruptor —Clubhouse— blasted onto the scene.  And while several of these platforms had been around for a bit, it seemed like their popularity soared once most of the world went into lockdown.  
And why not? With many of us sheltered in place for much of the year, sooner or later we had literally streamed all of the things and turned to platforms which enriched us while entertaining us.
As the developers of Clubhouse reminded us, something special happens when humans stop to sit down and engage in meaningful discussions.  Discovery, creativity, inspiration and reenergized ambition all are sparked when these conversations are done correctly.
But don't worry if you're late to the game, today we're going to cover the five best podcasts to unleash your inner creative and drastically improve your productivity.  So if you are looking for ways to kickstart some serious change, then look no further than these amazing podcasts.
The Marie Forleo Podcast
Regardless of your definition of success, thought leader Marie Forleo's podcast repeatedly reminds us all of the key to achieving it via her mantra —Everything is figueroutable.  The Marie Forleo Podcast is a invigorating mix of interviews with the greatest minds, celebrities and regular people doing amazing things.
Episode after episode, Marie captivates her listeners with her infectious positivity and Jersey-girl straight shooting.  If you are looking to hear stories of people overcoming incredible odds and achieving success in unconventional ways, then this is podcast has your name written all over it.
Oprah's Super Soul Podcast
I remember coming home from school everyday to see Oprah on at 4pm.  Over the years she had the best guests and managed to ask all the questions her viewers wanted to know.  And in her later years, she started to teach others all the lessons she had learned.  Oprah's Super Soul Podcast continues in that tradition.
Spanning the best interviews of her career, as well as new ones, if you are a fan of Auntie Oprah, this is the podcast for you.
The Jasmine Star Show Podcast 
Fiery, energetic, honest and direct — that's entrepreneur and social media expert Jasmine Star.  If you are looking to up your business' social media game or kick your sales/marketing skills into overdrive, than tune in here.  
Jasmine is the no-nonsense, truth-telling best friend we all need when we are determined to do the hard things and need someone to keep us accountable.  She also has an amazing way of taking complex, seemingly impossible strategies and breaking them down in to simple, digestible steps.  
The Bossbabe Podcast
 The Bossbabe Podcast is another great resource for those of us interested in launching and sustaining a scaleable business.  Natalie and Danielle sound like our best friends next door as they interview fellow entrepreneurs and share their secrets of how they created and scaled their own empire.
From female bio hacking to organization to how and when to hire staff members, these ladies cover all the basics of being a woman in business.
Ted Talks Daily Podcast
 Take your love of traditional Ted Talks with you when your on the go with Ted Talks Daily.  I for one am a little bit of a Ted Talk junkie and can easily get trapped on my computer in an endless scroll loop.  
Thanks to Ted Talks Daily, you can now browse the same massive catalog of content while driving, walking or just relaxing by the pool.  Explore an endless variety of topics and speakers with this thought-expanding podcast.