4 Simple Tips for Stylish Dog Mom Homes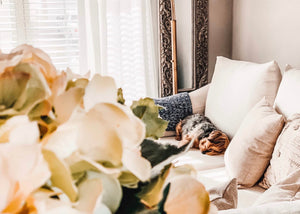 So you're a dog mom which means you are no stranger to dog hair everywhere, welcome home puppy puddles and doggie pies.  We're talking an obscene amount of doggie pies.
But just because our kids wee on the carpet and shred pillows does not mean we want our homes to be all puppy proof and no posh.  We want post.  So much posh.  Please make us the poshest!
So let's dive into four simple ways us dog moms can bring in all the home glam without sending our fur kids, or our sanity, packing.
Believe In the Power of the Slipcover
I know what you're thinking.  Slipcovers are so 1960's, Lindsey. Now hold on before you go dismissing this tip.  The 1960's are totally making a come back. [lol...I kid!]
I'm not talking your grandmother's plastic crackling, sticky, sweat machine of a slipcover.  I mean tailor, fitted, chic slipcovers.  The kind that scream omg I'm so stylish! and who's tags whisper I'm washable.
Spilled wine?  Dirty paws?  Mysterious stains?  No problem!  Just a quick mini cycle and your furniture is good as new.  Your dog and your living room will thank you.
High Low Is the Way To Go
Who says style always has to be costly?  Treat your home decor like you do your closet.  Unless you're SJP, your wardrobe does not solely consist of YSL, Chanel and Chloë.  You have several prized items and then the rest of your closet is filled with more reasonably priced garments.
The same goes for your home.  Mix up your space with furniture and accents from all price ranges.  Save the big bucks for your must have statement pieces and then fill in the rest with items prices in the medium to low range.
Got a pillow chewer?  No problem.  We all know our dogs pick certain areas in the home to claim as their own.  So if you must  decorate in your pet's domain, throw the Target find in their space and save the Sugarboo for your space.
Posh Pups Live Here
Since you share your home with your dog include them in your style.  Your dog's area does not need to shout dog goes here!  Pick dog beds, toys and etc which compliment your home's theme.
Some of my absolute favorite items are actually pieces I purchased for my dogs. Paris has this amazing cream tent that she curls up in when I'm watching TV.  Cortez has this beautiful Velveteen Rabbit dog pouf in the living room that is tré chic.  And don't even let me get started on their Rosé All Day chew toy. [Swoon]
Incorporate your dog into your home design.  There are pet products for every dog mom's style.  So spend a little time browsing around until you find the products which both you and your dog can enjoy.
Anchor Your Floor
Most rooms are not complete without a rug.  Whether you are into calm coastal vibes or vibrant hues, area rugs can really tie your space together.
But where you see gorgeous retreat, your dog sees target practice.  Seriously?!?!  I swear when I brought Paris home she thought my dining room rug was the world's largest wee pad.  And it was driving us both nuts until...[dramatic trumpeting]...I purchased a washable area rug system!
Yes.  You heard me right.  A washable area rug system.  These babies are like dog mom [and hooman mom] gold!  If you don't have one GET ONE NOW!  I swear I will never go back to a normal rug again.
For details on the particular brand I purchased you can head over to our IGTV Channel and watch Our Fav Insta Finds Series: Episode Four.  But here are the basics.  
These rug systems consist of the top layer which contains the design and a bottom layer which grips the floor.  When it's time to wash the rug you just peel up the top layer, run a wash/dry cycle and then lay it back down.  That's it.  You're welcome [insert smug emoji face here].
So there you have it.  Four simple tips to keep your dog mom decor top notch.  For loads more inspiration, product suggestions and videos, visit us on IGTV via the Instagram link below to view our shows.  And don't forget to give us a follow while you're there!
Do you have decor suggestions?  Drop us a comment to share them with the rest of the squad!
Written By Lindsey | July 25, 2020