5 Healthy Dog Shampoos To Buy Online Or DIY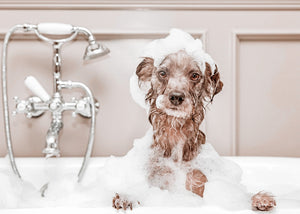 Written By L&C Contributor Lena Samford @lenasamford.
This blog post contains affiliate links.  This means I may earn a small commission at no additional cost to you should you choose to make a purchase using my link.  I love all of these companies and you will too!
Have you ever heard the term "happier than a pig in mud?" Well my girls Indi and Elaina are so joyful when they're rolling in the mud you'd think they might be pigs! I LOVE to see them having the time of their life playing in the dirt, but when it comes to the aftermath at bath time I used to feel a sense of dread.
The dread came from bathing my girls only to have them scratch and lick afterwards due to red, itchy skin.  I was using products that were filled with chemicals that didn't need to be there, causing skin irritation.
Whether your dog enjoys long strolls in the mud or not, we all have to find it in ourselves to take on bath time, so we need to make sure we are using the right products.
In my last blog post, Good Dogs Go Green, I mention that shampoos that are good for your dog are going to be good for the environment too!
Chemicals can cause skin irritations, but also they can cause potential health issues.
"Chemicals in your pet shampoos and sprays are noteworthy to avoid for the health of your pet since their skin is their largest organ.  The most common ones to avoid are phthalates, artificial colors, fragrances and parabens."
Regardless of if you're bathing your dogs inside or out, those chemicals can ultimately end up in our waterways and lakes causing water pollution.  It also becomes an issue at the production level if they aren't safely discharging the chemicals and waste.
After some research, I've put together a list of 5 healthy dog shampoos you can use with confidence; knowing that they are safe for your dog and the planet.
1. Oatmeal & Aloe Dog Shampoo from Public Goods
This shampoo doesn't have anything to hide with its minimal ingredient list.  You'll notice it is free from sulfates, phthalates, parabens and is plant-based!  Their fragrances are naturally derived, and as the name states, oatmeal and aloe —which are traditionally known for their soothing skin properties.
(Psst: You can use our discount code "LINDSEYANDCOCOPGA" to save 15% off your first order with Public Goods!)
2. Wild One Conditioning Shampoo
While this shampoo has a longer ingredient list, they break down easily where each ingredient is derived.  It's vegan, hypoallergenic, 99.8% natural, and made without any parabens, sulfates, alcohol, or artificial colors, fragrances or chemical detergents.  
It comes in two delightful scents — Eucalytus Peppermint or Grapefruit Lemongrass.  Instead of of your pup sniffing your butt, you might actually end up sniffing his! (lol)
3. Buddy Wash Original Lavender & Mint Dog Shampoo + Conditioner
I always give a breath of relief when I see a short ingredient list I can pronounce!  Buddy Wash only has 13 ingredients, mostly pure botanical extracts, essential oils and natural conditioners like sage, aloe vera, rosemary, green tea and chamomile. It's soap-free, alcohol-free and doesn't include any of the yucky chemicals we've been trying to avoid.
4. Skout's Honor Probiotic Shampoo & Conditioner
I'm ALL about good probiotic.  Trust me, I would have Kombucha on tap in my kitchen if I could!  And while I'm not going to start filling the water bowl with Kombucha, I can still give my dogs good probiotics too.  If you have dogs that suffer from environmental allergies this Probiotic Shampoo + Conditioner might be the perfect match.
When applied topically, this probiotic can prevent and protect from bad bacteria bothering your dog's skin, and leave their hair silky and smooth.  It is paraben, sulfate, soap and tear-free.  Just be sure to select the fragrance-free option so you don't encounter artificial fragrances.
5. 3 Ingredient DIY Shampoo
Shampoos you make yourself can be rewarding, especially since you know exactly what goes into it and can ensure it is safe.  Here's a tried and true 3 ingredient shampoo you can make with things you already have at home.
2 cups of warm water
1/4 cup of non-toxic dish soap (non-toxic is important!)
1/2 cup of white vinegar
Mix together these ingredients in a bucket or in the bottom of the tub and you're done!  Be sure to note that if you start to see signs of dryness or irritation, it's time to switch back to actual dog shampoo.
Now you're equipped with 5 Healthy Dog Shampoo options that will make you feel proud to use while your dog feels like they are at the spa!  Leave a comment and let us know which on you decide to try!
Special thanks to Lena Samford for contributing this awesome piece.  Please follow her @lenasamford on Instagram for more sustainable pet-friendly living and fitness tips.