Let Sleeping Dogs Lie [Top 5 Pet Beds To Please Your Pup + Compliment Your Decor]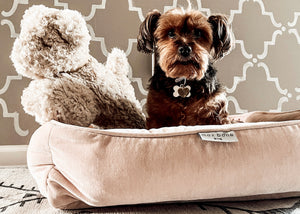 This blog post contains affiliate links.  This means I may earn a small commission at no additional cost to you should you choose to make a purchase using my link.  I love all of these companies and you will too!
If there's one thing we know well in the L&C house, it's pet beds.  Providing cozy places to curl up is key when it comes to raising well behaved pups. After all, everyone turns into Cranky McCranky Pants without a good night's sleep.
Healthy puppies average anywhere from 18 to 20 hours of sleep per day. Adult dogs still clock in at a whopping 12 to 14 hours a day. Talk about your sleeping beauty.
I can certainly attest to those stats. The twins sleep a solid 12 hours every night and then spend most of my work day snoring soundly.  And while Paris makes it a point to follow me around, you can bet she's snoozing whenever I settle in a spot for more than 20 minutes.
So to help dog moms everywhere, we've rounded up our favorite dog beds to compliment your decor AND please your pup.  Click any of the photos below to shop our picks!
1. The Dream Catcher Bed By Max-Bone
When it comes to caring for adult dogs, getting the right pet bed is a must.  This is especially the case as our pups age.
Smaller breeds like Paris are considered senior at 11 years of age.  But large dog breeds enter their golden years at just 8.
We love the Dream Catcher because it provides orthopedic support as well as washable slipcover in a soft faux velvet.*


*Save 15% on your Max-Bone purchases with our discount code "LINDSEYANDCOCO."
2. The Pickle & Polly Dog Tent Bed
This pup tent from Pickle & Polly is a fan favorite!  Not only am I obsessed with it from an aesthetic perspective, but all three of my dogs love this little tent as well. 
Assembly is super easy and the dogs love to snack on their favorite treats or have slumber parties under its washable tent. 

It also comes with a reversible, and washable, matching dog pillow.  One side is a cooler cloth fabric while the other side is a faux fur perfect for snuggling during the cooler winter months.

3. The Canopy Dog Bed By Napa Home & Garden
Covered sleeping areas are all the rage in our house; and it's no surprise. When left to their own devices Dylan, Delilah and Paris are known to burrow under blankets or hide under a mountain of pillows.
This darling canopy bed by Napa Home & Garden gives them all the cozy den vibes while giving me all the reels with its dreamy wicker canopy.
It also comes with a washable canvas pet pillow and is slightly raised off the floor; making it the perfect cool place for summertime naps.
4. The Velveteen Rabbit & Stripes Pet Bed By Sugarboo & Co
This darling floor pillow can actually serve as a floor pouf or a dog bed.  One side is a beautiful navy & taupe stripe while the other carries a whimsical quote from the children's book The Velveteen Rabbit. 

With a sturdy, washable slipcover and it's oversized comfort, this pet bed makes the perfect spot for you and your pup to cuddle together. 

With all of these beautiful beds around the house, I also had to pick just the right one to use with the twins while they are potty training. 
5. *Bonus Pick: The Puppy Potty Training Bed
I personally crate train my dogs overnight to help make prevent accidents. So while Paris slumbers like the queen she is on The Dream Catcher, I went for a more practical, yet cozy option for the twins' crates.  

The FuzzBall Fluffy Luxe Pet Bed available here from Amazon, is perfect for potty training puppies. It's donut space is an easy fit inside of crates while doubling as an extra fluffy curling spot.  The whole bed is water proof & machine washable; which makes pet accidents a breeze. And it's anti-slip bottom keeps it from sliding around the inside of the twins' pet crates. 

Cheers to dog mom decor wishes and sweet pup dreams.
Xoxo,
Lindsey