10 Iconic Pup + Gal Pal Galentine's Day Duos [Our Fave Dog Moms Under 10K On The Gram]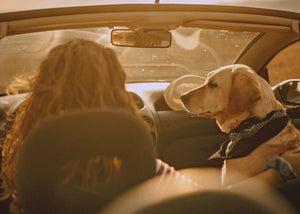 Rihanna and Cara. Issa and Molly. Kendall and Gigi. Every self-respecting girl has a Thelma to her Louise. And every dog mom knows that her real ride or die bestie for life is her pup!
Nobody. And I mean NOBODY understands you like your dog. So ahead of this Galentine's Day, I'm listing out our favorite, most iconic dog mom and pup duos under 10k on Instagram!
The Most Iconic Dog Mom Duos On Instagram Under 10K 
Barb + Amy (@barb_in_charge)
This Snuggle & Snack duo are the original Thelma and Louise of The Gram.  If you haven't seen their reels or flipped through their Dog Mom highlights, do yourself a favor and go check them out.  Barb and Amy's dynamic duo vibes are legendary!
Remy + Caitlyn (@remyaroundtheworld)
Our very own real life Pupperella Story, Caitlyn rescued Remy and they have been living their happily-ever-after all over Europe ever since.  For the absolute BEST insider travel secrets (and the sweetest travel companion moments on The Gram), give these two a follow.
Shimmy + Houda (@shimmyschimmel)
The West Coast Besties we all want to meet for brunch; meet Shimmy and Houda.  These two give us all the glam, California-living, best life-having vibes we can stand! 
Jackson + Ashley (@divaandadog)
Everyone loves those friends who are down for all the treats and eats but will also get our bums in the gym tomorrow morning.  If you're the type of girl who's all about Gym, Snacks & Walkies, then Jackson and Ashley are your peoples!   You're welcome.
Oliver + Chanel (@sweetredupcheeks)
This is that one dynamic duo who is just soooooo freakin talented!  Everything Oliver and Chanel turns to gold…literally.  Their Instagram feed is just filled with all the golden hour, artistically beautiful, bestie vibes your heart can stand.
Ginger + Kassidi (@gingers_naps)
Hailing from my home state, these Ginger and Kassidi are the truth-telling friends every girl needs in her life.  Kassidi is always so inspirational and on the forefront of true social justice reform.  Like her bio says, 'you'll come for the laughs and stay for the learning."
Olive + Haley (@olivethetraveler)
What do you get when you cross a cavalier with adventure-seeking dog mama? A Travelier!  With over 100 road-trips, 44 flights and 9 states under their belt, these two gals are always ready for interstate bestie shenanigans. 
Migo + Shadonna (@theemrmigoandmom)
Every girl needs that bestie who keeps you motivated; Migo and Shadonna are that for us.  Building their own empire via www.migoandcompany.com, these two are the sweetest, most down to earth CEOs we've ever met.
Maple + Marianna (@maple.the.cavalier)
Ok, if you don't already have a dog mom sous baker in your contacts, then you need Marianna!  She is always baking the tastiest and most beautiful treats for Maple in her stories.  So break out that mixer and tie on your apron!
Khai + Kelly (@azpotcake)
If you're looking for "adventure in the great wide somewhere", then Khai and Kelly will give you all the Belle vibes your Disney-Princess-loving-heart can stand!  Absolutely stunning Arizona vistas are their stomping grounds for their red rock hikes.  And like any true Disney Princess, Kelly sports a heart of gold and is always raising awareness for various animal rescues.  
So those are our favorite dog mom and pup duos under 10K on The Gram.  Wishing you all a Happy Galentine's Day this February 13th! And tell your dog I said hi!