L&C GO Behind The Brand With FriendshipCollar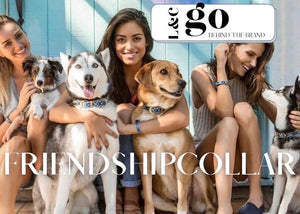 This blog post contains some affiliate links.  This means I may earn a small commission at no additional cost to you should you chose to make a purchase using my link.  I love all of these companies and you will too!

Living the dog mom lifestyle is filled with so many treats.  And one of the best feelings is when you find something for you and your number one soulmate...your dog!
If you find something that pleases you as much as your pet AND it contributes to a worthy case; congratulations Babe, you just hit the trifecta!
For L&C's very first L&C Go Behind The Brand blog post series, we hit it out of the park with an interview with the very first pet lifestyle brand we fell in love with: FriendshipCollar.
Known for their absolutely stunning matching designs for you and your best friend (be they canine, equine, or feline), FriendshipCollar ticks all of our boxes.  This company is known for beautifully crafted style, its fun #bestfriendgoals personality and a heart full of gold when it comes to feeding shelter rescues!
So we were over the moon excited to get the BTB goss for this week's post!
What inspired the creation of FriendshipCollar?
FriendshipCollar was built on the foundation of love and friendship, and has been inspired by best friends everywhere.
It doesn't matter if you are at work, school, on vacation or simply in the next room, FriendshipCollar means that you and your bestie are always connected, no matter how far apart you may be!
What 3 words best describe your brand?
It's so hard to sum this up in just 3 words!  Our brand is all about your Love, your Friendship!  It's the prefect way to show off the incredible bond between you and your best friend!  So we would say FriendshipCollar is fun, fashionable and all about friendship!
Tell us more about your mission to feed shelter animals.
We LOVE rescue animals!  Our mission is "To feed hungry shelter animals who have yet to meet their new best friend."  We believe that every pooch and every cat should find their forever home and that every human should have a best friend with paws!  So for every sale made, we donate food to shelters across the USA.  Each time you purchase an item from FriendshipCollar you are giving back.  Thank you for helping us help them!
What is something about your company that your customers may not know but you really want emphasized?
Our collars are made of Vegan Leather - All of our collections are created using vegan leather and ethically sourced fabrics.  We wouldn't dream of putting anything on our four-legged friends that we would not wear ourselves.  You and your best friends can wear your accessories with the knowledge that our products are soft, durable and most importantly animal friendly and 100% cruelty free!  They are also scratch resistant for those mischievous bustiest and water resistant too!  So you and your BFF can wear them every day!

What are some of your favorite ways to style your charms?
Dog accessories have never been so plush!  Each charm set comes with a harm for your BFF's collar and a matching charm for your bracelet.
Our charms have been designed to wear layered, simply slide them on, mix them up and match your bestie!  You can mix and match to suit your style or mood.  We love seeing how you create your own paw-tonal style with our slider charm sets.  However, our summer time favorite combination is Mermaid Tails FriendshipCollar with the Shell charm!
What is next for FriendshipCollar?
We are launching new designs very soon for dogs, cats and horses! These are going to be "Tie-dyed" and we hope you think they will be "Turtley-Awesome!"  Can you take a guess at what you think the designs will be?
Thanks so much to our friends at FriendshipCollar for this awesome BTB chat.  Please be sure to check them out on Instagram @FriendshipCollar and on their website www.friendshipcollar.com.  And be sure to check back with them often as they regularly launch new limited edition designs through the year!
Click the images above to shop these looks from FriendshipCollar