L&C Go Behind The Brand With CAVOLOGY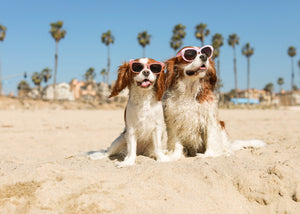 This blog post contains affiliate links.  This means I may earn a small commission at no additional cost to you should you choose to make a purchase using my link.  I love all of these companies and you will too!

I'm pretty certain that #lifegoals for most of us dog moms is to be able to work with our dogs.  What could be better than being able to spend our days traveling with and doting on our pets?
For those of us who think that making a living with our dogs is far fetched, this edition of L&C Go Behind The Brand is especially for you!
I am so very excited to chat it up with Mai, Herky and Milton, the powerhouses behind @herkythecavalier on Instagram and the high quality, stylish accessories brand made for and by dog lovers — CAVOLOGY.
So tell us a little bit about you and the girls.  Where are you from?  How old are Herky and Milton?
My name is Mai and I have been running the Instagram page @herkythecavalier since 2014, and @cavologybrand since 2018 (full-time)!
Growing up I never had a dog but was always obsessed with them.  I fell in love with Cavaliers with Lady And The Tramp (although technically Lady is a Cocker, I always felt she looked more like a Cavalier) and that love was confirmed with Sex And The City's Elizabeth Taylor.  It wasn't until 2014 when I got engaged that my now husband got me Herky.
We are all from Montreal, Canada.  We spend a lot of time in California.  SoCal is my husband's absolute favorite place.  So our goal is to relocate there!
Herky is now 6 (almost 7 *cry*) and Milton is 4.
I absolutely love their names!  How did you come up with them?
I know their names are so out of the ordinary!  A lot even think they are odd. (lol)  But personally, I like unique names.  I like that their names are unconventional too; like they are girls with boyish names.  And I feel like this is a good way to be remembered.
I love when girls have boyish names too!  So tell us, did the girls hit it off straight away when they first met?
Unfortunately it was one-sided!  Milton was absolutely in love with her sister right away.  But Herky took a while to adapt to having a little sister.  Even today, I feel like she would prefer being an only child.  She is more independent and she was THRIVING alone.  As for Milton, her absolute idol of life is Herky and there is no doubt about that.
Anyone who follows your Instagram account knows how much you all love to travel.  Can you give our dog moms some of your best traveling with dogs advice?
My best advice for dog moms who travel is: be prepared but relaxed!
We have a whole travel series on our YouTube channel.  I always like to be informed on the plane, airport, destination and get everything ready in advance (the sooner the better!).  Getting to know your destination country's requirements is crucial since this can take a little bit to get ready (i.e. veterinarian paperwork and shots).
However, I always like to be as relaxed as possible too!  You don't want this experience to be stressful.  It's an amazing opportunity to bond and have an amazing time with your pup!
What has been your favorite adventure so far with the girls?
Not to sound so cliché but every single day with the girls is a blessing.  Something as simple as discovering a new walking path during our afternoon outings is something I treasure.  Seeing them happy and sniffing new scents brings me so much joy!
But also, going to California (specifically Huntington Beach) is one of our favorites.  They are just so happy to be off leash on the beach.  It's so precious!
Okay.  So now for the big pink, gorgeous elephant in the room.  I'm SOOO high key obsessed with your brand!  Like total groupie level.  Please tell us a little bit about CAVOLOGY.
Haha!  I love this!  "Groupie Level."  (lol)  CAVOLOGY is a brand I started with, of course, Herky and Milton as my muses.  The brand started with rope leashes because I was always obsessed with them but couldn't find a style and colors that I wanted to use.  So I thought, "why not make my own?"  And that's how CAVOLOGY was born — from my quest for the perfect rope leash.
With each new collection, what I strive to design is something I would personally use on the girls.  In the past when I was shopping for accessories for Herky and Milton, I often struggled to find the perfect leash, harness or collar.  So each CAVOLOGY collection is something I love!
How did you get started in the design business?  Do you have a background in it?
I do not!  My background is in law and science; believe it or not.  CAVOLOGY really got started out of passion and I did everything on my own while working as a lawyer; R&D, photography, sourcing, manufacturing, website, social media...everything!  When you love what you do, it really does not feel like a job.  I certainly could do this all day everyday!
As CAVOLOGY grows, we are constantly adding new collections, patterns and styles.  One of my favorite aspects of the business is creating and coming up with the color themes for each collection.
If you had to sum up CAVOLOGY in just three words what would they be?
Classic.  Timeless.  Luxe.
What are your favorite pieces in your collection right now?
The Fiori Rosa Collection just has a piece of my heart.  It's just perfect for me!
What is a little known fact about you and the girls?
I love to dress them in pink or black!
What is something about CAVOLOGY you want your clients to know that they may not be aware of?
What I care about the most is how our collections are received by the clients and our clients' experience with CAVOLOGY.  I want all our clients to feel like they are a part of the CAVOLOGY family.  I want them to know that each item in our boutique has been meticulously and lovingly designed, manufactured and packaged.  Plus, the thank you notes are usually all handwritten by me!
You have so many incredible things going on: the social media, the brand, the website, the traveling (sans Covid), the YouTube channel...just to name a few.  How do you balance it all?
When you love what you do, you'll never work a day in your life!
That being said, there are days when I don't know where to focus my time and energy.  I am just one person and in the end I cannot be at five places at once; even though I would love to!
As CAVOLOGY grows, I inevitably have less time to dedicate to our influencer page Herky The Cavalier.  However, there are some weeks when I feel more inspired to create content for Herky The Cavalier, YouTube and TikTok.
In the end, I believe that you should just do what feels good to you that day or that week.  You can't force inspiration.  You can't force creativity. :)
But when the creativity hits, ride that wave girl!
Thanks so much to our Queen of Creativity Mai and her CAVOLOGY muses Herky and Milton for taking the time out of their very busy schedules to chat with us!  I'm always so excited when people I view as friends in my head become friends in real life!
Please be sure to follow their adventures on Instagram @herkythecavalier and check out their gorgeous collection on their website www.CAVOLOGY.com and @cavologybrand on The Gram.
And don't forget to shop with code "LINDSEYANDCOCO" to save 10% on your purchase!