L&C Go Behind The Brand With Aurelia + Icarus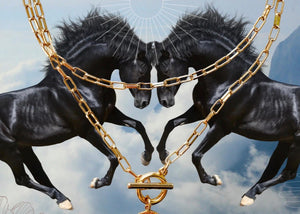 My obsession with all things 80's is no secret.  And by now I'm pretty certain you too share in this nostalgic love affair.  The edge. The music.  The glam!  So when I stumbled across this super chic, edgy jewelry brand on Instagram my scrolling came to a screeching halt.
This brand is stunning.  (Stuuuunnnning)  Literally every accessory is a statement piece and they all scream "Rock On Babe!"  I literally cannot stop buying!  (We're talking swim up through the stratosphere, MasterCard still smoking levels.)
Bonus points: this is another example of a brand you feeds your style AND your soul.
So for this edition of L&C Go Behind The Brand, we are so very honored to chat with this creative powerhouse: Aurelia + Icarus.
Aurelia + Icarus is such a beautiful name.  What inspired it?
I discovered the name  Aurelia in an old church hymnal in Stockholm, Sweden.  And Icarus refers to the mythological character who flew too close to the sun with his waxed, feather wings -- ultimately falling to the ground.  His grand attempt to succeed is what resonated with me.  Add the unusual and ancient name of Aurelia which had a shine to it, and there you have it: Aurelia + Icarus.
What 3 words best describe your brand?
Edgy.  Enigmatic.  Effortless.
Where do you get your inspiration for your gorgeous designs?
Before the pandemic I traveled a lot.  I lived in Europe for about 20 years and only recently immigrated to the U.S. last year.  I found it so interesting to learn about other cultures, their points of view and how they create.  I draw a lot of inspiration from them.
I'm also inspired and gain courage from my parents.  They are interracial immigrants from opposite sides of the world.  Their boldness to love each other, especially back in the old days when doing so was illegal in some places, inspires me to do what feels right.  To be myself and not to be concerned about what others think. 
Tell us more about your mission to be a socially conscious and sustainable business.  How did you come up with the idea to bring that mission into the world of jewelry?
Marc Benioff, CEO of Salesforce said it best, "Companies can do more than just make money.  They can serve others."
The Aurelia + Icarus jewelry and accessories brand was created to make women feel good about themselves without harming the planet.
There are ubiquitous amounts of throw away plastic descending from society's supply chain.  Not only is it everywhere, but research shows we are now ingesting tiny plastic particles -- it's in our sea life and even babies are born with plastic particles already in them!  By 2050 there will be more plastic in the oceans than fish!  A scary reality!
We had to do something.  For us it was being careful about what we create; so it does not end up in a landfill, languishing for hundreds of years and producing infinite amounts of carbon, destroying our planet.
We are not perfect, but this is how we try to be part of the solution:
All packaging is 100% recyclable or reusable and is plastic-free.
Our jewelry is made in small batches only and is built to last.
For every order received we plant one tree through our reforestation partner.
Carbon off-set shipping.
Speaking of reforestation, tell us more about your Plant-A-Tree Program.
It's quite simple.  For every sale we plant one tree through our reforestation partner, One Tree Planted.  It's a remarkable charity that plants trees on behalf of organizations, businesses and individuals around the world.
We chose to work in the reforestation space as trees help claim the air we breathe, filter the water we drink and provide habitat to over 80% of the world's terrestrial biodiversity.  Forests provide jobs to over 1.6 billion people, absorb harmful carbon from the atmosphere and are key ingredients in 25% of all medicines.
California's forests are seriously damaged.  2017's record-breaking wildfire season burned more than 1.3 million acres.  That's an area the size of Delaware!  2020's fire season has consumed close to 3 million acres; resulting in hundreds of millions of trees that will need to be restored.  We are pleased to be a part of this reforestation project.
What is something about your company that your customers may not know but you really want emphasized?
That we give a damn.  We really want people to know that we care about climate change and we know it is possible to shop, look and feel fabulous without wrecking the planet.
What are some of your favorite pieces for this Fall/Winter Season?
Oh, there are so many!  I'm currently crushing on the 24-Karat Gold-Filled Spike Pavé Hoops, the Medusa Toggle Necklace, the Eden Gold-Filled Resistance Necklace, the Sioux Crystal Studs and the Figa Evil Eye Bracelet.
What is next for Aurelia + Icarus?
We are super thrilled to expand our product line and are working on a new accessory collection that is hopefully debuting next month!  So stay tuned!!
Thanks so much to our glam goddess Trace at Aurelia + Icarus for this amazing BTB chat.  Please be sure to check out the collection on Instagram @aurelia_and_icarus and on their website www.shoptheai.com.  And be sure to keep an eye out for their new accessory collection coming soon!