Is Now a Good Time for Me to Get a Dog or Puppy? [Things to Consider]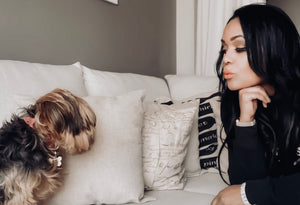 Okay...so here you are.  It's week 5711 on quarantine.  You're bored.  You've sampled every body scrub and clay mud mask on Allure's Top Ten List. And now you're podcasting your weekends away while sharing your The Floor Is Lava winning strategies with your cacti collection.  It's time.  You're finally taking the plunge and have decided to get a fur baby.
Maybe this will be your first puppy.  Or maybe you have decided to get your dog a dog (yes, that is totally a thing).  Either way, someone new is about to enter your family.  What should you expect?  How do you prepare and where should you even begin to look for a new dog?
Where Do We Start?
It's 2020.  So we can all agree that we do not support puppy mills.  We are not here for cruelty to animals and so when it comes to getting a dog we are considering one of three routes: fostering, adopting and reputable breeders.  That's it.
So let's start at the beginning with puppies.  If you must, must have a certain breed or a puppy (and there is nothing wrong with wanting a particular breed or a puppy), where do you start?  I'm sure you are wondering this especially if you are new to the dog mom club.  (Btw if you are new WELCOME BABE!)  Never fear my dazzling dog-diva-to-be, I've got some great suggestions for you.
Finding A Dog Breeder
First, do your friends have dogs?  If they do, did they buy their pet from a breeder? If so, start there.  It's amazing how helpful your network of friends and family can be when it comes to tracking down dog breeders.  Dog breeders associate with other dog breeders.  So just because your friend's breeder doesn't specialize in the type of dog you're interested in, that doesn't mean they can't help you.
Also, don't count your friends and family out just because they don't have pets.  I found Coco through my aunt who does not have dogs.  But she has friends.  And one of her friends was a reputable chihuahua breeder.  So when she heard I was looking for a toy breed, she knew just the breeder for me.
If the friend and family circle does not pan out, another great suggestion is to contact your local veterinarian.  Don't know any vets?  Well you're about to need one.  So why not start the search early and identify your new vet?  Once you've identified a vet ask them if they know of any responsible pet breeders or pet breeder clubs.  And even if you are not going the foster or adoption route, oftentimes dog shelters may have connections into the breeder world too.  So ask around.
The point is, it is possible to find a good breeder.  It just takes a little creativity and legwork.  For more tips on how to find a great breeder, check out these articles:
How To Find A Responsible Dog Breeder from The Humane Society of the United States
         https://www.humanesociety.org/resources/how-find-responsible-dog-breeder
Tips for Finding and Working With a Responsible Breeder from The American Kennel Club
         https://www.akc.org/expert-advice/lifestyle/9-tips-finding-working-responsible-breeder/
Fostering Or Adoption
Considering fostering or adoption?  Excellent choice BABE!  Now to debunk one very common myth about shelters.  Many people believe shelters are filled with old dogs.  That myth couldn't be further from the truth.  Shelters are filled with dogs of all ages and breeds; including puppies.
Animals who need homes are found at all stages of their lives.  So please do not write off your local shelters just because you want a younger dog.  Go on.  Check out your local shelters online.  If you see someone interesting, you'll need to set up an appointment to meet them in person.
Now that we've gotten that out of the way, here's a couple of quick tips for you.  There can be fees associated with adopting (actually there usually are).   And there is definitely going to be an application and screening process required for both adoption and pet fostering.  (We know the dog is alright but we've got to make sure you're not too nutty!)  So be patient and follow all of the steps.  Oh and in both cases, you may need to have already selected your veterinarian.
The Real Cost Of Having A Dog
Now before you start signing paperwork and swiping debit cards, please remember that bringing a pet home is a LIFETIME commitment.  This is not a let's bring this little furry person home and see if it'll work kind of a deal.  We don't bring human babies home that way and four-legged babies are no different.
This is a commitment.  Please don't be THAT person who brings home a dog only to send him packing within the first few weeks.  It's not a good look BABE.
Since we are all currently on a planetary timeout, it's easy to say we can totally handle a pet right now.  As a matter of fact, we can reason that we need this fur baby because the cacti are starting to talk back.  But stop and consider the following questions:
What was your life like before quarantine?
Long days in the office?
Afternoons and weekends filled with spinning classes and sporting events?
Lots of last minute travel plans or evenings drinks with the girls?
If that was your life before, try to picture what kind of life that would have been for a pet.  Consider whether a dog would have enjoyed living with you; or would they have spent their days waiting for you to come home?  If a dog would not have fit in your life before, then you may need to get a goldfish.
Welcome Home Fur Baby!
So you've counted the cost and you're going to be a fur mom.  Congratulations!  Now I know you've got the basic supplies covered like a dog bed, bowls, harnesses and leashes, toys, a dog collar and tags.  But what else do you need?
Well, first of all, I would highly suggest you consider having your new dog microchipped.  Most shelter and foster dogs will already be microchipped but dogs from breeders may not.  So definitely give consideration for the additional peace of mind.  It's not expensive, so why not enter the digital pet ownership age?
Secondly, if your puppy isn't already spayed or neutered, talk to your vet immediately about what is the optimal age for doing so.  You can have that conversation during your dog's first vet appointment which should be as soon after their Gotcha Day as possible.  
Many new pet parents worry about what type of food they should buy for their dog. As a matter of fact, all pet parents worry about this.  Never fear, your vet is here.  Just give them a ring before your dog comes home and ask them for dietary recommendations.  If you know what type of dog you are bringing home, tell them.  They can give you some very specific feeding insights.
Well BABE, that was quite the list and we haven't even talked first day or potty training.  So, stay tuned for the next blog in this series.  In the meantime, do you have any tips on how to find a breeder or a veterinarian?  Any insights on how to navigate the fostering or pet adoption process?  If so, comment below!