7 Ways To Help Animal Shelters During Covid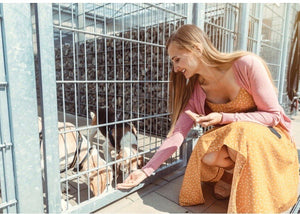 As much of the U.S. and the world head into month six of covid quarantine, it's easy to forget our more unfortunate FURiends.  Sure, pet adoptions and fostering percentages are up dramatically, but there are still lots of animals living in shelters and rescue centers.
As much as you may want to bring home all of the fur babies, you may not be in a position to adopt or foster.  But that doesn't mean you cannot help.  Here are our top seven ways to help pet shelters and rescue centers during the pandemic.
1. Donate Money
This is probably the one most people think of when they consider helping homeless animals.  It takes money to keep the lights on and water running.  Adoption centers, shelters and rescue organizations all need to pay for property expenses, maintenance and utilities.  Even if you only have a couple of dollars; every little bit helps.
2. Donate Unopened Food
Most centers have arrangements for contactless canned and dry food drop-offs.  Contact your local organization to confirm drop-off locations and times.  Your food donations will go a long way to feed fur kid bellies.
3. Donate Supplies
From towels to pet beds to toys and bowls, shelter animals need all of the same items as our own pets.  Not sure which supplies your local rescue needs?  Visit them online for their donation wishlist or call them to confirm which items are needed.
4. Donate Your Time
Do you have a special skill like an electrician or a contractor? Can you offer to do some free maintenance work?  Can you volunteer to work the phones or stock supplies for a few hours?  Even if you are a professional kitten cuddler or dog walker, any skills you have can be put to good use volunteering.
5. Say Thank You
Speaking of volunteering at centers, our pet shelter and rescue volunteers can use some love and support too!  Can you send them an office supply care package?  Maybe give them some coffee gift cards or pay for a meal to be catered in?  Even a nice thank you card will go a long way to lift their spirits and let them know they are truly appreciated.
6. Campaign for Your Local Shelter or Rescue Center
The goal of every pet center is to find forever homes for their guests.  You can help the cause by promoting pet shelters.  Can you follow them on social media?  Help get the word out regarding adoption events?  Can you highlight them on your YouTube channel or get them featured by your local news station or newspaper?  The increased publicity will help them bring awareness to pet adoption and donations.
7. Share Adoptable Pet Posts on Your Social Media
Speaking of publicity and social media, can you feature adoptable pet posts on your social media?  Every time you feature an adoptable animal, you are reminding your followers of all the pets who need homes.  And while you may not be able to adopt/foster, maybe one of your followers can.
So reach out to your local pet shelters and rescue centers to lend a hand.  Got more suggestions on how to help?  Share them with the squad below in the comments section.